Will Krug and David Kerian are hoping to spark some offense at Duane Banks Field this weekend
A lot has happened in the Illinois baseball program in the past week but it's time for them to buckle down and play some baseball.  They'll be playing the Iowa Hawkeyes in Iowa City this weekend.
To recap the excitement of the past week, Illinois Baseball (27-17, 13-5 Big Ten) has:
I know Coach Hartleb has taught our players not to dwell on their successes but to simply strive to build on them.  So I know their minds are on the Iowa Hawkeyes (27-17, 8-10 Big Ten) now.  It's been a long time.  Illinois hasn't played Iowa since 2011 so all of our players will be new to playing the Black and Gold of the Hawkeyes.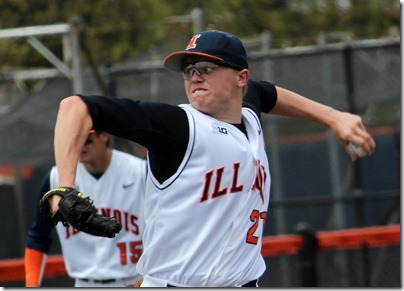 Is Kevin Duchene ready for the long haul this weekend?
There's one big announced change in the pitching rotation.  Along with Drasen Johnson (4-5, 3.25) and John Kravetz (5-1, 3.09), starter Kevin Duchene (2-1, 1.80) will be pitching on Sunday.  Duchene was a previously unannounced starter in last Sunday's game but was on a limited pitch count.  He got in three innings and both he and Coach Hartleb must have been pleased with the outing. He's back for more.
Duane Banks Field

Iowa City, Iowa

Fri. May 9

4:00 pm CT

Sat. May 3

11:00 am CT

Sun. May 4

1:00 pm CT

vs

27-17 (8-10 Big Ten)
Like last week's opponents, the Spartans, Iowa has a similar overall record to Illinois (27-17). However, the Fighting Illini (13-5) have made a lot more of their conference season than Iowa (8-10) has.  From where I stand, part of the reason might be the competition but a lot of it is that the Illini have just gotten motivated at the right time.
The Hawkeyes CAN hit though.  They went 1-2 against Ohio State last weekend but outscored them 22-11 including a 17-2 drubbing on Friday, worth mentioning since it was against the Buckeyes' Friday night starter.  Overall, the Hawks are hitting .303 for the year as a team.  That ranks second in the Big Ten.
Following this weekend's games
For those at home, you can follow the games via GameTracker or its Mobile Live version.  WDWS will be broadcasting at AM1400 with Dave Loane and Matt Wille behind the mike.  Here's the Twitter feed for @IllinoisBaseball for the play-by-play in 140 characters or less.
Also, Saturday's game will be broadcasted over Big Ten Network's BTN2Go with Kevin Kugler and Scott Pose.
Go Illini!
Related posts