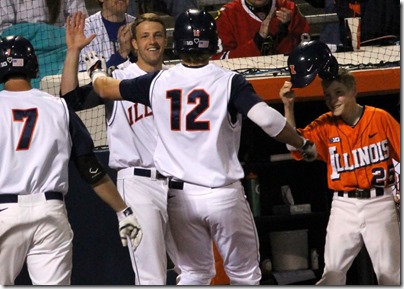 David Kerian is welcomed back to the dugout by starting pitcher Drasen Johnson after scoring the winning run
As some of the Illinois baseball "oldtimers" who have shown up for this weekend's alumni festivities can attest, there something about a Illinois-Michigan State series.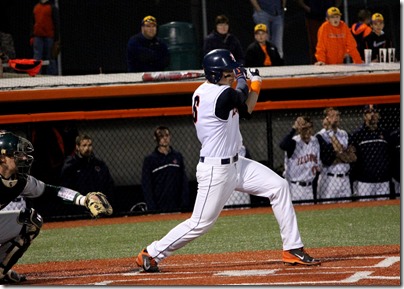 Adam Walton slaps a triple to drive home Ryan Nagle
The first game of this Illinois' series against the Spartans ended victorious 5-4.  It took a little work though and it wasn't without a little excitement.  After a Michigan State rallied to take the lead in the top of the eighth, it took two triples by Adam Walton and David Kerian and a unexpected wild pitch by the Spartan hurler to score Kerian to score the winning run.
Tyler Jay who relieved starter Drasen Johnson in the eighth, loaded the bases but finished the job for his third win of the season.
The win gives Illinois a bit of breathing room in the Big Ten.  They are now 11-5 in conference play and holding on to second place with a 25-17 overall record.  Today's win also gives Coach Dan Hartleb his 269th career wins with Illinois.  That pushes him past Tom Dedin for fourth place on the all-time list. Dedin was on hand tonight to see Hartleb's victory.
Starter Drasen Johnson got through the first seven without much trouble giving up just one run.  He ran into trouble in the eighth when he gave up three straight hits then committed a throwing error which scored a run.  One walk later, Tyler Jay came on to pitch and he almost got out of the difficult no-out, based loaded situation.  He struck out the next batter and induced a pop out.  Unfortunately, on a 1-2 count, he gave up a 2-run single to give up the lead.  Johnson deserves his due.  Johnson pitched a great game up until the eighth inning.  And as always, he didn't get much in terms of support.
But that's what makes for a good baseball game like this.  Ryan Nagle was 2 for 2 in the game but it was his eighth inning walk that really made the difference.  That was followed an Adam Walton triple.  Two outs later, David Kerian hit the second triple of the inning scoring Walton, tying the game 4-4.  A wild pitch later, Kerian scored and the Illini had the lead.
This time for good.
Random Ramblings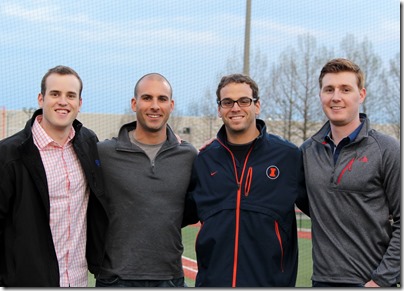 Illini baseball alums:  from left to right, Matt Dittman, Dominic Altobelli, Wes Braun and Will Strack
I love alumni weekends.  I get to connect with a lot of players from past years that haven't seen in while.
Many were talking about past series with Michigan State.  Like playing a game against them in the snow.  Dom Altobelli told his story about he won a game by getting hit by a pitch.  Wes Braun chimed in that Dom was so excited that he almost forgot to run to first base.  Then of course there is this game against Michigan State in 2007.  That one is my favorite.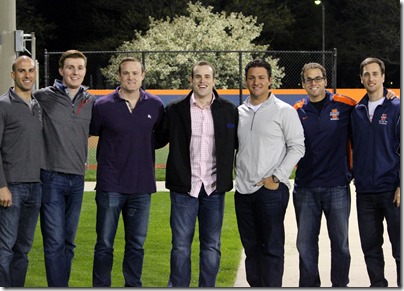 From left to right: Dominic Altobelli, Will Strack, Mike Sterk, Matt Dittman, Adam Davis, Wes Braun and Pete Cappetta
Next up
The Spartans will be raring for a rematch so Illinois better be prepared.  Saturday's game is at 1pm and John Kravetz is on the hill.
Go Illinois!
Related posts