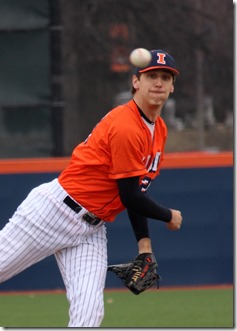 With the three game sweep of the Wildcats this weekend, I had a feeling the Big Ten was going to throw an award the Illini's way this week.  Sure enough, John Kravetz was named Pitcher of the Week.  He becomes the second Illini to receive the award.  Kevin Duchene was dubbed Pitcher of the Week in March. 
It's a deserved award.  Kravetz nailed the door shut on the Illini sweep of Northwestern with eight shutout innings (a career high for John).  He struck out seven batters and walked none in Illinois' 1-0 win over the Wildcats.
Tonight's game postponed
If you hadn't already heard, tonight's game against Eastern Illinois University in Mattoon has been canceled due to unplayable field conditions.  When I first read this, I wondered why.  It was nice and sunny here in Urbana.  Fifteen minutes later, though, we had a sun shower.  I guess that's why I'm not in charge.
It has still not determined whether the game will be rescheduled. 
Willie Argo gets a promotion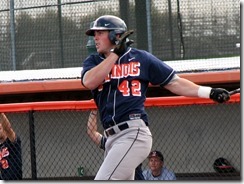 Those of us fortunate to watch Willie Argo play for Illinois knew that he was destined to play in the pros.  His dreams to play in the bigs just got that much closer as he recently got promoted to AA ball and is now playing for the Tampa affiliate Montgomery  Biscuits.  He's already making some noise too.  So far in four games, he already has a homerun and a triple. 
Keep it going, Willie!
Finally, don't forget, Michigan is in town this weekend!!
Related posts