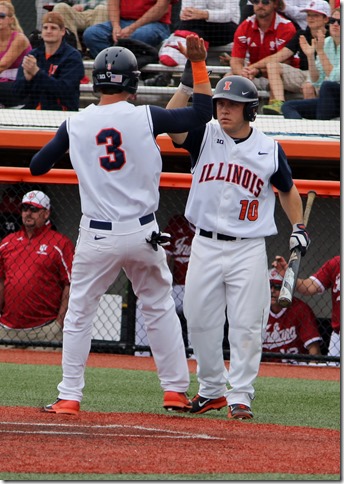 Casey Fletcher scores on Ryne Roper's triple in the third inning
If we had that one more inning, I just know the Illini would have come back from their 11-3 deficit.  Well, maybe. 
With one pitch thrown in the ninth inning of Sunday's game, the men in blue called the contest due to rain after a one and half hour delay.  As a result, Indiana (28-12, 13-2 Big Ten) won the last game of the tough series 11-3 giving them a 2-1 series edge against Illinois (23-17, 10-5 Big Ten). 
Despite the lopsided score, the Illini had the lead as late as the top of the fifth inning.  It was then when the Hoosiers broke out for four runs off Ryan Castellanos giving them a 6-3 lead.  The Illini offense didn't score after that but Indiana managed to put some more runs on the boards.  They scored two in the seventh and three in the eighth. 
Illinois' big inning was the third when Casey Fletcher started it out by getting plunked.  Ryne Roper followed that up with a triple scoring Fletcher.  Michael Hurwitz was hit AGAIN and Will Krug knocked in the tying run with a base hit.  Ryan Nagle put the Illini up by a run with a ground out rbi scoring Hurwitz. 
Unfortunately, that was Illinois' only offensively productive inning.  In fact, Indiana pitching held Illinois to three hits in the game and two of them were in the third.  Will Krug who was 2 for 4, also singled in the eighth.
With the loss, Ryan Castellanos still maintains a winning record at 4-3 for the year. 
Random Ramblings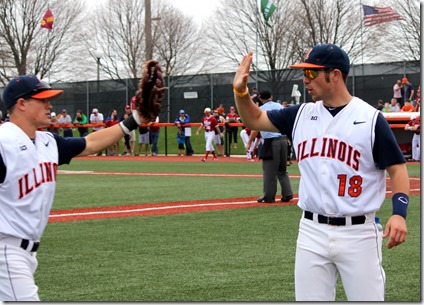 The total attendance for today's game and the Bleacher Bum BBQ promotion was 3,185, the fifth highest in Illinois history…  Despite the cold winter/spring, this is first time this year a home game has been affected by weather if memory serves…  As a freshman, Anthony Drago (above, #18) isn't getting a lot of playing time but I really like his enthusiasm and he really seems to be a team player.  From my vantage point, he's the first player out of the dugout to welcome the players back from the field…  Yesterday, was a good day for the Illini all around.  Former Illini Tanner Roark pitched his first CG shutout in the majors for the Nationals…  Finally, a losing series isn't something I like to see but if we're going to go 1-2 against any team, I'm glad it's Indiana.  They have a tough team and there's a reason they're #24 in the nation. 
Next up
Illinois has a rematch against Southern Illinois on Tuesday at Illinois Field.  Game time is 6pm. 
Go Illinois!
Related posts