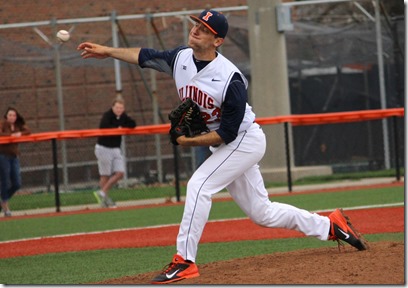 A fine performance but no decision for John Kravetz today
Illinois didn't take advantage of a solid pitching performance by starter John Kravetz and dropped the last game of their three game series to Michigan 4-2.  The winds were still blowing out to left center but both starters managed to keep the ball in the park and keep the score down.  Kravetz (3-1), who got a no decision for the game, did well allowing six hits and one walk in six innings, keeping the Wolverines to just two runs.  Ronnie Muck (0-3) gave up a run in the eighth and the ninth innings each and was tagged with the loss. 
In the bottom of the sixth, Reid Roper kept hopes alive by driving home David Kerian which tied the game at 2-2.  Kerian showed some hustle by stealing second prior to that.  Base running was something the Illini were having a little trouble with today.  Three key runners were caught stealing.  Not only that, four runners were picked off.  Coach Hartleb alluded to that in his post game statement:
"We were not very smart and did not play good baseball today.  We made fundamental mistakes. We were very poor on the base paths and didn't use the field at the plate. We are at the point in the season where we need guys to produce, but we aren't getting that done offensively."

 
This is the first time in almost a month (March 15) that the Illini have lost two games in a row.  They are now 6-3 in conference play. 
| | | |
| --- | --- | --- |
| Game #31 / April 13, 2014 | | |
| | vs | |
| 4` | | 2 |
Adam Walton extended his hit streak to 13 games in today's loss
Will Krug had a three hits in today's game.  He's had multiple hits in all three games this weekend and went 8 for 14 for the weekend… Casey Fletcher and Reid Roper joined Krug in the offensive action with two hits each today… Roper had a pretty decent weekend himself going 6 for 11… Adam Walton's hitting streak keeps plugging along.  He went 1 for 4 on Sunday.  His streak is now at thirteen games, I believe.   
Next up
On Tuesday at 6pm, Illinois hopes to make up their previously scheduled game against Illinois State.  The game will be played at Duffy Bass Field in Normal, Illinois. 
Go Illini!
Related posts