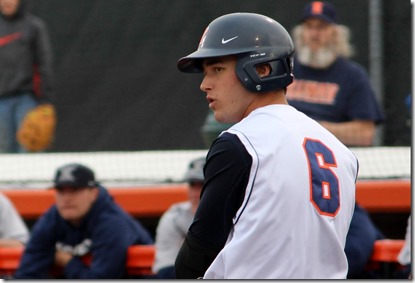 Shortstop Adam Walton brings a 10-game hitting streak into this weekend
After two Big Ten weekends, Illinois Baseball is off to a 5-1 conference start (17-11 overall).  That by the way, is the best Big Ten start under Coach Dan Hartleb's reign.  Illinois hopes to continue their good luck against slightly stiffer competition at home this weekend.  They will be hosting the Michigan Wolverines who sport a 14-18-1 overall record and 4-5 conference mark.
After last weekend's sweep of the Wildcats, Coach Hartleb probably is figuring he'd better leave things well enough alone as far as the pitching rotation.  As well he should.  Last weekend, Illinois pitching got the job done giving up just two runs in the three games.  So according to the FightingIllini.com weekend preview, we'll be seeing the same three hurlers.  It will be Drasen Johnson (3-4, 2.74) on Friday night, Ryan Castellanos (3-1, 3.18) on Saturday afternoon and Big Ten Pitcher of the Week, John Kravetz (3-1, 3.06) on the mound on Sunday. 
Illinois Field

Champaign, Illinois

Fri. April 11

6:00 pm CT

Sat. April 12

3:00 pm CT

Sun. April 13

1:00 pm CT

vs

14-18-1 (4-5 Big Ten)
Michigan's 14-18-1 record may be a little deceiving.  Unlike some of the other teams Illinois has faced, the Wolverines have faced some tough opponents.  During the non-conference season, they took on teams like Houston and UCLA.  Granted they lost all of those games but facing a team that's currently ranked in the polls counts for something.  Also consider that their first Big Ten opponent was Indiana who currently resides in first place in the Big Ten with an 8-1 conference record. 
So is Michigan all that good?  Well, they're probably better than their .439 winning percentage but I think their beatable.  Tough schedule or no, they still have a .240 batting average which ranks 9th in the conference.  Illinois pitchers just need to continue what they've been doing all conference season and our hitters need to back them up like last weekend. 
Following this weekend's games
If you're coming out to Illinois Field, you can follow the games via GameTracker or its new Mobile Live version.  WDWS will be broadcasting at AM1400 with Dave Loane and Co. behind the mike.  Here's the Twitter feed for @IllinoisBaseball. 
Alma Mater returns from the disabled list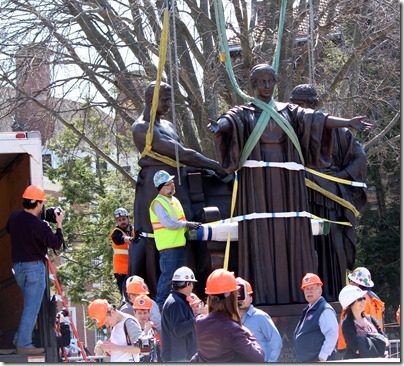 It's not really baseball related but the big news this Wednesday was the return of the University of Illinois landmark, the Alma Mater.  After almost two years being reconditioned, she is now back in her rightful spot.  Hard to believe that until now, current second semester sophomores have not yet seen what is considered the physical symbol of our campus. 
Over my lunch hour, I strolled by Wright and Green and snapped a few photos of the fully restored Alma Mater being restored to her place.  You can see the photos here. 
See you at the ballpark!
Related posts