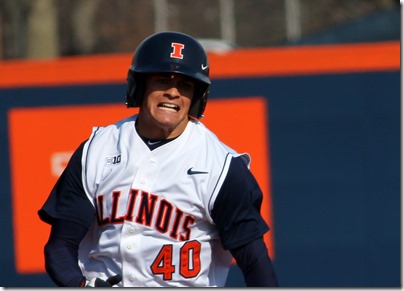 Will Krug now batting .329 with 15 stolen bases
On Sunday, Illinois completed a sweep at Penn State (17-19, 5-6 Big Ten) behind the pitching of Ryan Castellanos.  Penn State had the lead in each of the three games this weekend and two of the games were truly comeback efforts with Nit leads in the later innings. 
With the three game sweep, Illinois improves to 21-14 overall and 9-3 in the Big Ten conference.  That's good for sole occupation for second place in the Big Ten behind powerful Indiana (11-1).
| | | |
| --- | --- | --- |
| Game #33 / April 18, 2014 | | |
| | vs | |
| 6` | | 3 |
On Friday, Drasen Johnson did his usual great job.  He did give up nine hits in six plus innings but spread them out and only gave up one walk.  After getting into a bit of a jam, Coach Hartleb called on Tyler Jay who promptly got him out of it.  By the end, Johnson had only given up one run in 6 1/3 innings and Jay pitched 1 2/3 innings of scoreless ball. 
Jay got the win due to a four-run rally in the 8th in which all nine Fighting Illini came to bat. That was highlighted by a Ryne Roper two-run base hit.  Brother Reid Roper came in for the save in the ninth and while he made things interesting hitting two bases and loading the bases, he got the job done.  That's Roper's second save of 2014. 
| | | |
| --- | --- | --- |
| Game #34 / April 19, 2014 | | |
| | vs | |
| 8` | | 3 |
On Saturday, it was another comeback win for the Illini and they did it with another four-run rally, this time in the seventh.  Down 3-2, Adam Walton singled home Ryne Roper and Casey Fletcher to key the seventh inning rally.  One at-bat later, David Kerian drove home Walton along with Will Krug with another base hit. 
Krug added two more with a two run single in the 8th. 
Starter John Kravetz notched his fourth win of the season allowing nine hits and just one walk in 6 2/3 innings and striking out six.  J.D. Nielsen got a key out in the seventh while Ronnie Muck and Charlie Naso pitched one perfect inning each. 
| | | |
| --- | --- | --- |
| Game #35 / April 20, 2014 | | |
| | vs | |
| 7` | | 6 |
The Illini wrapped it up on Sunday with another win and while it wasn't a comebacker, Penn State made it close.  Down 7-3, the Nittany Lions scored three in the late innings to make it a little uncomfortable for Illinois.  Ryan Castellanos who pitched a solid game ( three runs in six innings) got the win and improves to 4-2 for the year.  Tyler
Jay earned his fifth save of 2014 despite giving up two runs in the ninth. 
Offensively, every player did his part, literally.  All nine starters either had an rbi, a run scored or both.  David Kerian contributed two doubles and Ryne Roper and Michael Hurwitz both had two hits. 
And yes, Adam Walton (left) has continued his hit streak through the weekend.  Now batting in the second spot in the lineup, Walton collected two hits on Friday, one on Saturday and one on Sunday.  His hit streak has been extended to 17 games and he his now hitting .306 for the year.  
Next up
Two re-scheduled midweek games on the schedule…
A game against the Eastern Illinois Panthers at Illinois will be played at Illinois Field on Tuesday at 6pm.  Then on Wednesday, Illinois goes down to Busch Stadium to take on the Missouri Tigers.  Game time is 6:30pm. 
Go Illini!
Related posts