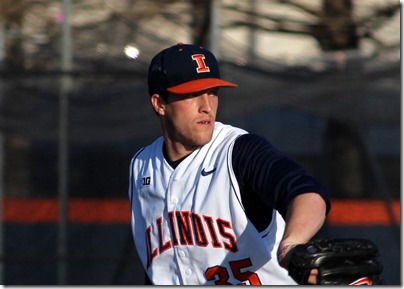 Drasen Johnson makes do with one run
For the first time since 1969, Illinois Baseball has won two consecutive 1-0 shutouts.  Last night's win against Michigan was behind the performance of Drasen Johnson who has gotten used to little support from the Illini offense.  Fortunately, one run was all he needed to defeat the Wolverines.  Johnson pitched seven innings of shutout ball extending the streak of scoreless innings by Illinois pitchers to 25. 
Illinois' win was their sixth in a row.  That puts them at 6-1 in conference play and 18-11 overall. 
It was the fourth when the Illini showed their only only offense of the game.  Ryne Roper singled home Michael Hurwitz.  It was a key run in more ways than one.  Will Krug led that inning with a double and got picked off and Hurwitz then singled.  The way both pitchers were going, that pickoff might have been a big play.  Fortunately, Roper got the big rbi hit which made the difference in the game.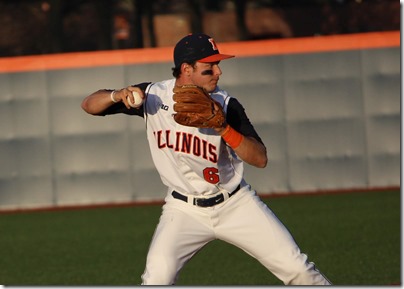 Adam Walton's hit streak is now at 11
Shortstop Adam Walton went 1 for 3 which extends his hitting streak to 11 games.  That's now best on the team for the year.  He's now hitting .298.  Pretty good for someone who started out hitting 0-20 this year.
A few photos from the game are here. 
Next up
Saturday's game against Michigan begins at 3pm at Illinois Field.  Ryan Castellanos is on the hill. 
Go Illini!
Related posts