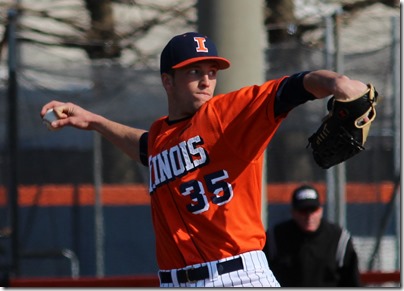 Drasen Johnson will be looking for win #3 on Sunday
Coming off their surprise 4-0 performance last weekend down in Gainesville, the Illinois baseball team hopes to build on their momentum.  This weekend, they'll taking on the Hilltoppers of Western Kentucky. 
The Illini have plenty of history with the Hilltoppers, currently a member of the Sun Belt Conference.  To date, the two teams have met eleven times and the good guys have come up on top eight of those matches. Illinois will be looking for some revenge.  They lost the last time the two teams met in 2011.   Here's a link to fightngillini.com's weekend preview. 
Coach Hartleb is going back with his routine three-man starting assignments though I'm sure he thanks Ryan Castellanos very much for getting the Illini off on the right foot last weekend.  This weekend, it's Kevin Duchene (1-1, 2.01 ERA) on Friday, John Kravetz (1-1, 4.63 ERA) on Saturday and Drasen Johnson (2-0, 2.79) on Sunday.
Nick Denes Field

Bowling Green, Kentucky

Fri. March 7

5:00 pm CT

Sat. March 8

2:00 pm CT

Sun. March 9

1:00 pm CT

vs

2014 record:  7-5
While the Hilltoppers are 7-5, keep in mind they do well at home.  They have a 5-1 record on home turf.  Two of those wins came against our rivals, Southern Illinois, by the way. 
WKU have a few starting pitchers to keep an eye on.  Austin Clay (2-0, 2.20) and Jake Thompson (2-0, 1.17) have done well in their first three starts.  While the Hilltopper hitters aren't the most patient at the plate, they can slug it out.  Specifically, Scott Wilcox (.341, 8 rbis), Ryan Church (2 HR, 9 rbis) and Cody Wofford (3 HR, 7 rbis) are big producers for WKU. 
You can follow all three games on GameTracker as always.  In addition, there will be a live video feed for all three games as well. 
The high temps down in Bowling Green look to be in the 50s this weekend.  Great weather for some Illinois wins!
Go Illini!
Related posts