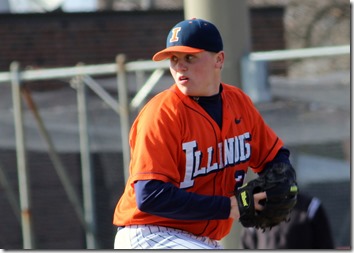 Kevin Duchene: perfect through six innings on Friday
Kevin Duchene may have done a great job of breaking in Itchy Jones Stadium on Friday but Southern Illinois Salukis reminded the Illini who it really belongs to on Saturday.
On Friday, Duchene continued his 2014 pitching prowess, hurling one of his best efforts of the year.  In fact, he had a perfect game going against the Salukis until the seventh inning. His stats at the end of game weren't too shabby.  In his complete game win, he gave up just four hits and one walk, winning 5-1.
There probably wasn't cheering from the visiting section after the first inning of the first game of Saturday's doubleheader.  After the Illini were spotted a four run lead, the good guys didn't score for fourteen straight innings.  It wasn't until the top of the ninth till Illinois scored two more.  Illinois dropped both games by the scores of 6-5 and 3-2 respectively.
This gives Illinois a 7-9 overall record going into the home opener against Indiana State on Tuesday.
It's not too early in the season to look at Kevin Duchene's stats.  In five starts, he's 2-1 with a 1.70 ERA.  More to the point, he's has a .200 opposing batting average and has allowed just seven walks in 37 innings.  Great things will come the Kevin this year… as long as the offense backs him up.
Offensively, Will Krug, David Kerian and Reid Roper all had multi-hit games.  Krug included two doubles and scored twice.  Reid Roper hit his second triple of the year.  to come out ahead.
Sunday's scheduled game was moved to Saturday due to the forecasted cold weather so both teams had a doubleheader on their hands.  In the first game, the Salukis out hit the Illini 16-8 but the Illini managed to stay in the game till the end.  The Illini were hurt by errors especially in the fourth inning which led to three runs.  Actually, the entire scoring took place before four innings were up.  Watching SIU's online box score, it seemed so simple.  All they needed was one run, I thought.
Kudos to both bullpens for keeping it close.  For the Illini in particular, Nick Blackburn (3 IP), J.D. Nielsen (1/3 IP), and Ronnie Muck (1 IP) for their scoreless innings out of the pen.
Offensively, things picked up about where they left off in Game 1 for the Illini.  They eked out four singles in the first eight innings.  By then it was already 3-0 Salukis.  In the ninth, Illinois put together two runs behind a Ryan Nagle sac fly and a rbi single by Ryne Roper.  By then, it was too late and the Salukis won their second one-run game 3-2.
Starter Drasen Johnson didn't pitch badly giving up just two runs and striking out five in 5 1/3 innings.  He gets the loss and goes to 2-2 for the season with a 2.48 ERA.
Home Opener!
Tuesday is the long awaited home opener at Illinois Field!  The Indiana State Sycamores (Baseball link) will come a callin' and Illinois will be waiting.  The Sycamores hail from the Missouri Valley Conference and are currently sporting a 14-2 record.  We regularly play Indiana State early in the season and I don't ever remember them being this good this early.
Gametime on Tuesday is scheduled to be at 3pm so clear it with your boss to take off work.
A couple notes especially for those driving to Illinois Field… Parking will be a challenge.  This comes from FightingIllini.com:
The Division of Intercollegiate Athletics also announced parking changes to begin the year. The grass parking lots surrounding Illinois Field will be closed for the start of the 2014 season due to effects of the winter weather. Fans attending games at Illinois Field should park in either the Northeast State Farm Center quadrant or the parking lot at the Bielfeldt Athletic Administration Building (weekend only) with entrance off Fourth Street.
Also note the scheduling change for the March 21-23 series against Xavier this weekend.  There will be an extra game added on Saturday and it will be played as a doubleheader.
See you at the ballpark!
Related posts