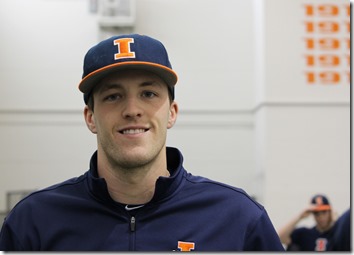 Drasen Johnson strikes out ten in his no-decision on Sunday
The Illini couldn't stave off a comeback from Georgia State today as they lost the rubber game to the Panthers 10-6.  This weekend, Illini lost two games in which they had early leads.  In Saturday's game which they won, they had to battle back from a five-run deficit. 
Just like the first two games, the Illini got off to a good start.  This time though Georgia State Panthers hitting came through in the late innings.  They scored five runs in the eighth inning to decimate the Orange and Blue's one-run lead. 
Starter Drasen Johnson gave up five runs but he was throwing fire.  In 6 1/3 innings, he struck out ten Panthers, a career high.  He was tagged with a no-decision in Sunday's game.
Good guys:  David Kerian went 2 for 4 with a double, a run and an rbi… Freshman Pat McInerney blasted his first homer of his Illini career. 
Next up: After a week of classes, the Illini travel to Myrtle Beach next weekend for the Caravelle Resort's Baseball at the Beach tournament.  They will face George Mason, a tough Coastal Carolina and Wichita State. 
Related posts