[Update:  Note schedule changes due to weather.]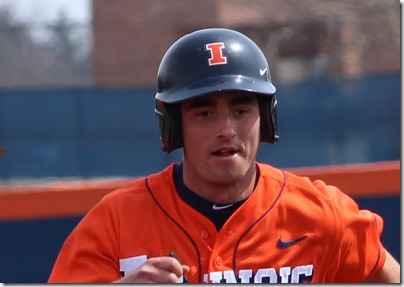 Reid Roper already has two dingers and seven rbis for the season
Admittedly, it's getting a little warmer here in Champaign-Urbana but this weekend, the Illinois baseball players get a chance to go the beach.  Specifically, they're going to the Baseball at the Beach Tournament (sponsored by Caravelle Resorts).  Held in Myrtle Beach, South Carolina, I'm hoping the guys get some nice dry weather.  The U of I Quad is becoming a lake right now between the rain and melting snow. 
The Illini (1-2) will be three very different teams this weekend at the Beach.  They'll be facing off against George Mason on Friday, a tough Coastal Carolina team on Saturday and finish off against Wichita State on Sunday. 
Coach Hartleb has the same three starting pitchers going this weekend with a twist.  He's got Drasen Johnson on the hill Saturday against the Chanticleers and John Kravetz pitching Sunday versus the Shockers. 
TicketReturn.com Field at Pelicans Ballpark

 

Myrtle Beach, South Carolina

Fri. February 21

11:00 am CT

 

vs

2014 record:  3-0

Sat. February 22

12:30 pm CT

vs

2014 record:  1-2

Sun. February 23

8:30 am CT  

vs

2014 record:  4-0
This weekend will be another tough challenge for the Illini as was announced in the Fighting Illini pre-season release.  They will be facing two teams who went deep into the NCAA Regionals last year.  Both Coastal Carolina (37-23) and Wichita State (39-28) impressed in 2013.  Wichita State has already done well this season with a 4-0 start.  They also have a dominating 8-2 series record against the Illini.  The Chanticleers, however, have some make up work to do.  They started out the season 1-2 last weekend. 
This will be the first time the Illini will face George Mason Patriots.  They're off to a good start as well.  They went 3-0 last weekend and look to be tough.  None of the three teams the Illini are facing this weekend are ranked yet but Wichita State has received a few votes in the NCBWA weekly polls. 
You'll have to get up early if you're going to follow Sunday's game on GameTracker against Wichita State.  Gametime is at 8:30am.  Get to bed early on Saturday night, Illini!
Go Illini! 
Related posts