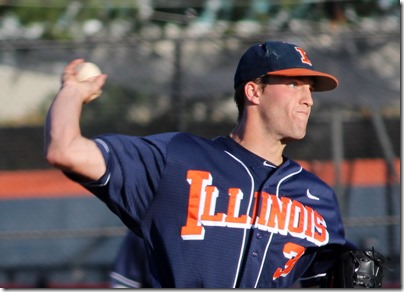 Sunday's probable starter Drasen Johnson
Friday is opening day!  It's only appropriate that the team we love open the season on Valentine's Day. 
While we hometown fans are stuck in the cold weather of Champaign-Urbana, the guys get a respite of sorts.  They're traveling to Atlanta for a three game set with the Georgia State Panthers.  While Atlanta has been getting some nasty weather lately, the latest forecast shows highs in the 50s with a chance of rain on Friday but otherwise nice weather.  At least nice enough for spring college baseball. 
Make sure to read the Fighting Illini's detailed press release on the GSU-Illinois series. 
This will be the first time the Illini have faced Georgia State in their 135-year history.  Tasked with the charge of defeating the Panthers (in order from Friday to Saturday) are starting pitchers Kevin Duchene, John Kravetz and Drasen Johnson.
GSU Baseball Complex

Atlanta, Georgia

Fri. February 14

3:00 pm CT

Sat. February 15

1:00 pm CT

Sun. February 16

12:00 pm CT  

vs

 

35-21 (2013 record)
This is the initial season in the Sun Belt Conference for Georgia State.  Previously, they could be found in the Colonial Athletic Conference.  GSU will be a nice challenge for the Illini to start the season.  For starters, the Panthers won 35 games last year, the same number that Illinois did.  They know how to hit, too.  The Panther out-hit their opponents .321 to 293 and out-homered them 44-23.  Most of their starters returned in 2014 which is tough news for the Illini. 
For an in-depth look from their perspective, here is GSU's media release for this weekend's series against Illinois.  Neither team was ranked nor received any votes in the NCBWA College Baseball poll that was released February 4th. 
For those not lucky enough to see the games live, there is always GameTracker which is better than MLB's version in my opinion. 
Monday's weather shows highs in the 60s so coaches, make sure they get back here, OK?  They have studyin' to do. 
Go Illini! 
Related posts