The temps were hovering around zero degrees this afternoon but that didn't stop me from seeing a little baseball.  Granted, it was just practice but considering it's January in Illinois, I was still thrilled.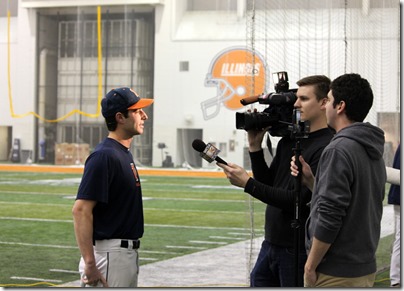 Reid Roper is interview by TV media.  By the way, that's Illini Baseball Assistant Sports Information Director Matt Wille at far right. 
It was Media Day at the Irwin Practice Facility today, a chance for the local scribes and camera crews to come out and get their scoops on the upcoming Illinois Baseball season.  The season starts in less than three weeks, you know.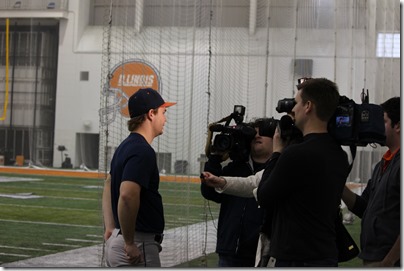 David Kerian gets his chance with the press.
It was my first time at the Irwin Practice Facility.  While it doesn't replace Illinois Field, it is a great venue for the team… and certainly a lot warmer.  Constructed originally for the Illinois Football team, its ample size suits the Illini Baseball team quite well.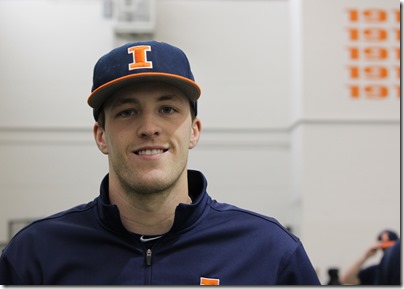 Illinois pitcher Drasen Johnson (above) was nice enough to chat with me for a few minutes.  Drasen is excited about this season and really sees a lot of potential in our young players especially the pitchers.  I told him at one point in Illinois Baseball history, pitching was our big question mark.  Not so much anymore thanks to the focus on recruitment of arms.  Drasen says he hopes to play a big part in Illinois' success in 2014.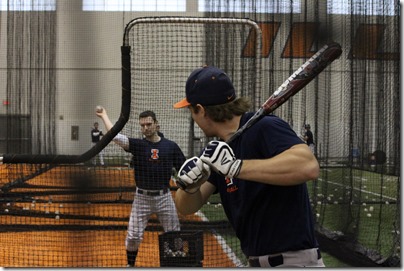 Kerian took his swings at the ball with help from Kelly Norris-Jones.
You'll find more photos from today at the Illinois Baseball Report's photo gallery.
The Illinois Baseball season starts on February 14 in Atlanta against Georgia State.  I'm sure more than a few players are looking forward to the warmer weather they'll find there.
Related posts