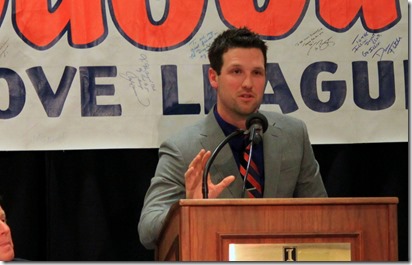 It was a snowy Saturday afternoon but that didn't keep throngs of Illinois Baseball fans from packing the Conference Center at the I Hotel in Champaign for the 2014 Fighting Illini Hot Stove Banquet.  The room was full of excitement and fun.
Former Illini catcher Chris Robinson was the keynote speaker for the night and he didn't disappoint.  He started with a folksy "I-just-thought-I'd-wing-it-up here" bit but as his speech continued, it evolved into a very thoughtful insight into his time with the Illinois Baseball team, his journey through the minor league system and his recent call-up to the San Diego Padres.  At times, it was quite emotional with Robinson fighting tears.  Emotional because Robinson announced that he was done with baseball as a player.  After being designated for assignment by the Padres in September, he has made his decision to spend more time with his wife and children.
Robbie gave plenty of due credit to the Illinois baseball program for his development.  He was also thankful to the San Diego Padres organization for giving him his chance to play in the minors as well as his Padres teammates for treating him so well.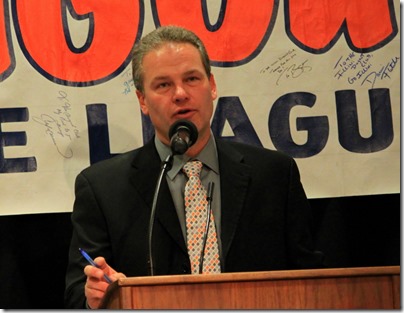 Earlier in the afternoon, Coach Hartleb announced that much of the proceeds from the Hot Stove Banquet will be used to for a 2014 Illinois Baseball Dominican Republic trip.  In the fall, the Illinois Baseball team, will be traveling to the Dominican Republic to travel, play ball and hopefully learn a thing or two.  As some of you might know, Hartleb traveled to the Dominican Republic in 2013 with his son.  He told the crowd that he hoped this would be an educational experience for the players. That's exciting news for the team!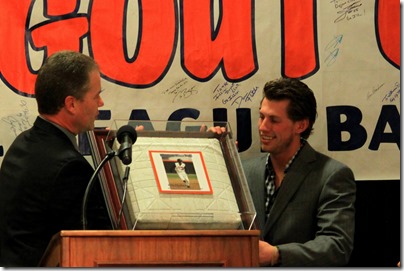 Coach Hartleb handed out a few honors during the banquet as well.  The first, admittedly a little late, was for former Illini centerfielder Kyle Hudson.  He was presented an award for his record breaking 40 stolen bases in 2008.  Hudson now plays in the minor leagues for the Baltimore Oriole organization.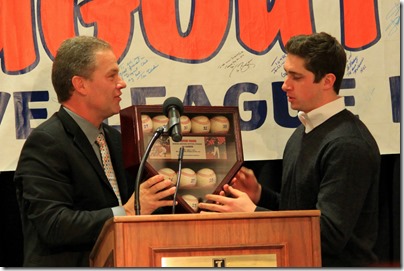 Justin Parr was given a honorary award for his outstanding season in 2013.  In particular, he was recognized for breaking the team record of 33 straight games with a hit.  Justin was presented with a fabricated trophy in the shape of a home plate which included every ball he hit after his 25th game.  For the 2013 season, Justin Parr hit .398 with 53 rbis.  Parr is now playing in the Phillies' organization.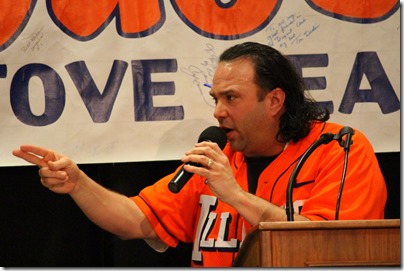 There was a silent auction with literally hundreds of items that were being bid on throughout the afternoon.  The big ticket items though were handled via live auction and local talent Mike Namoff was the auctioneer.  There's nothing like a live auction to get the excitement going and I'm sure it helps raise money.  The biggest item for sale was the package for the "On Field MLB Experience Package" between the New York Yankees vs Boston Red Sox.  After a long bidding session, the winning bid went for a solid $4,000.
For me personally, the Fighting Illini Hot Stove Banquet was a hit.  It was great seeing players present and past.  I re-acquainted myself with parents and staff.  The food was fantastic and the energy was electric.  Thanks to Coach Hartleb and his staff, the Fighting Illini Dugout Club for putting this on!  Personal thanks to starting pitcher John Kravetz who was seated at my table (a great guy to talk to!)
This was my first Hot Stove Banquet that I attended but it won't be my last.
Related posts