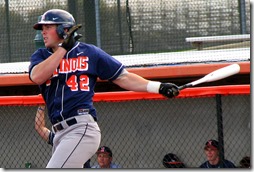 Honestly, did we expect any less from Willie Argo when he was here? 
The former Illini outfielder who graduated in 2012, is making headlines in the minor league system in the Tampa Bay organization.  This time he's made their list as one of the Rays' Organization All-Stars in 2013.  He's listed at the first among all of their minor league outfielders. 
Here's MiLB's Kelsie Heneghan's write-up on Argo:
Willie Argo, Charlotte (95 games): The University of Illinois stolen base record-holder remained a force on the bases in his second pro season, swiping a team-best 37 bags for the Stone Crabs. He also excelled defensively, committing two errors in 182 total chances.

Williams considers his team's MVP to be "a baseball player" for his hard work and dedication, saying Argo reminds him of former big leaguer Matt Diaz.

"They're not going to wow you with tools, so to speak, but every year they're just going to keep going out there and putting up numbers and playing well and helping teams win," Williams said. "And then, next thing you know, they're playing 10 games in the big leagues. So he's just that kind of player — he's a gamer-type of player."
Willie Argo batted .308 with 37 stolen bases and 58 runs scored for the Charlotte Stone Crabs.  He only committed two errors all season. 
Related posts