The Cardinals' Class A affiliate Peoria Chiefs are holding an online auction to benefit those affected by the recent tornado damage in Central Illinois. 
"The response on the auction front has been outstanding," said Chiefs director of media relations and baseball operations Nathan Baliva.

Items up for auction range from a baseball signed by Hall of Famer Stan Musial to an unopened American Girl Doll. Players from the Cardinals, Cubs and other Illinois professional teams, along with former Chiefs players, continue to donate more items to the auction, as it will stay open indefinitely. Local businesses and Minor League teams are also contributing to the auctions.
Even former Illini baseball players are helping out.  Josh, Justin and Jordan Parr who are now currently playing in the minor leagues have donated a few items for sale in the auction.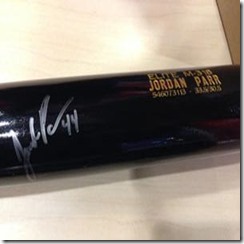 These items include:
A set of baseball cards signed by all three Parr brothers
Bid now while you can!
It should be noted that the Chiefs' press release makes a point of saying that "All of the proceeds will go to residents of the central Illinois towns who were affected by the recent storms." (emphasis mine). 
There are plenty of other fun things for sale too so browse around.  Here is the link for the Peoria Chiefs' online auction for tornado relief. 
Related posts