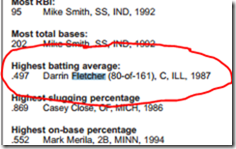 Last week, the Big Ten has updated their Record Book.  For those who have not perused the Record Book, it's a plethora of sports information such as yearly standings, yearly statistical team and individual records, awards, and 2013 Year in Review. 
It's really quite thorough in its treatment in all of Big Ten's sports.  Of course, what we're interested in is the Baseball section. 
A couple of interesting points:
The Big Ten wasn't always the Big Ten.  Baseball's first year in the Western Conference was in 1896 and included just four teams, Chicago, Michigan, Illinois and Wisconsin.  Illinois had a pretty good run in the early 20th century winning 11 championships between 1900 and 1916.  By then, their were eight teams in the conference and six years later in 1922, the Big Ten grew to an actual ten teams (Chicago was still a member; Michigan State wouldn't join until the 50s).
How do the the teams stack up historically in terms of number of championships?  The University of Illinois doesn't fare too badly.  Here's a breakdown: 
35 Michigan
29 Illinois
22 Minnesota
15 Ohio State
5 Indiana
5 Chicago
5 Wisconsin
4 Michigan State
2 Northwestern
2 Purdue
1 Penn State
And yes, you bet I searched for Illini players.  Darrin Fletcher still holds the record for the highest batting average in a season with a .497 mark in 1987.  Jason Anderson is tied for the most wins with 14 in 2000.  And Bubba Smith still holds the mark for most total bases in one game with 18 on April 30, 1991.  He's also tied for the most homeruns (4) on that same day. 
Illinois fans especially those with a penchant for stats and sports history, should definitely check out the Big Ten Record Book. 
Related posts