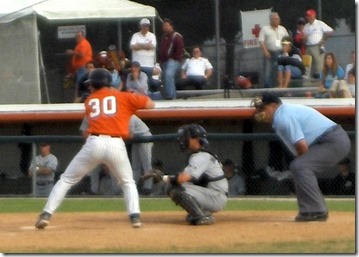 Robinson at the plate circa May 2005
It's been a long journey for Chris Robinson. 
The former Illinois catcher has become the second Illini to be called up to the Major Leagues in ten days.  He now reports to the San Diego Padres.  Former Illini pitcher Tanner Roark made the jump to the Nationals just last week. 
Robinson was drafted after Illinois' 2005 Big Ten Championship season.  His third round pick was the highest by an Illini position player.  Robbie has spent nine seasons playing for the Tigers, Cubs, Orioles and Padres organizations.  Robinson also devoted his talents to Team Canada's Baseball team. 
Robinson has hit well this season in Norfolk and Tucson.at the AAA level.  For Tucson, he hit .298 in 103 plate appearances. 
The quick dope on Robbie is that he's a solid hitter with potential for gap power.  He's also got very good defensive skills behind the plate and knows how to handle his pitchers. 
I have give Robinson and the rest of the team of 2005 some credit here.  It was that championship season I started following Illinois baseball intently.  You can tell by the quality of the photo above I didn't even have a decent camera at the time.  It was long after I started the Illinois Baseball Report. 
Good luck, Robbie!
Related posts