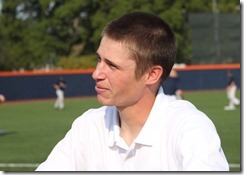 Oregonlive.com has feature article on the two Parr brothers… no, not Justin and Jordan but Jordan and older brother, Josh (left). 
The two Chillicothe, Illinois natives are now paired up on the Arizona Diamondbacks' single-A affiliate Hillsboro Hops.  Big brother Josh is excited to play with Jordan:
"I was, one, shocked, and two, excited I was going to get to play with him," said Josh Parr, who was drafted in the 12th round of the 2011 draft out of the University of Illinois. "I feel incredibly blessed."
Good luck to both Parrs this season!!
Related posts