After my summer trip to Alaska, I'm getting back in the swing of things.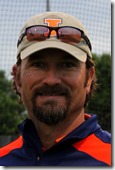 Checking the news, it looks like the commitment of Casey Fletcher to the Illinois Baseball program is getting some media attention now.  The Champaign News-Gazette has a feature article on Casey and the familial connection with his dad, Darrin (left) who played for Illinois in the 1980s. 
Also, reporter Aaron Bennett from WCIA 3 TV got a chance to talk to Casey Fletcher about his opportunity to play for Illinois.  You can see the video of the interview on Illinoishomepage.net.
Roper recognized in summer league play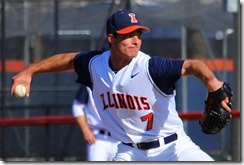 In summer league action, Reid Roper pitched a marathon session as a reliever last week for his Rochester Honkers in the Northwoods League.  The game went 15 innings and Roper pitched seven of those innings.  He gave up just two hits and kept the opposing Waterloo Bucks scoreless.  If you're wondering, yes, there was a fellow Illini in the Bucks lineup.  David Kerian went 0 for 7 for the game (don't worry, Kerian is doing fine so far, hitting .307 for the season). 
It does make me wonder if there's some friendly rivalry among the Illini playing in summer leagues on different teams.  If so, Roper got the edge this time. 
Roper didn't get the win but for his efforts, he was written up on the Northwoods League website and his performance was dubbed the "greatest bullpen effort of the season to date." 
Congrats Reid and good luck to all the Illini players in summer league action! 
Lindy hits #1!
Finally, congrats to Illini draftee Thomas Lindauer who hit his first homerun in pro ball.  He banged out his first homer on Monday to help win one for his Tri-City ValleyCats.  Tri-City is off to a great start this season with a 20-9 record.   
Related posts