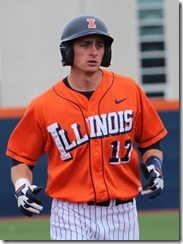 According to Dan Itel of The Hillsboro Argus, Jordan Parr is again feeling at home with the Hillsboro (OR) Hops now that he's back to playing a more familiar position.  His first few weeks with the Class A Short Season Hops have been a little harrowing as they have tried him out at third base.  The experiment didn't quite work out as planned as the normally capable Parr suffered in the field.  Jordan, who has never played the position, made fifteen errors in seventeen games.  The clincher was on the 4th of July when he made four miscues in one game.  That's when the Hops decided to make a change. 
Now that he's back in left field, Jordan Parr is feeling like himself.  One could hardly fault the Hops management for thinking Parr had the skills; he is a versatile player on the field.  I was a little surprised myself to read that he hadn't played third before.  But obviously the hot corner isn't meant to be Parr's spot. 
Jordan Parr is excited about his switch back to the outfield:
"It feels great," Parr said of switching back to the outfield. "It's my natural position. It's a position that best suited me. It's a spot where I need to be to have success in the organization."
Since the move to left field, Parr's miscues are way down.  He's made just one throwing error.  Offensively, Parr is hitting .222 (20 for 90) with 2 homeruns and 12 rbis for the Hops.  I'm thinking that once he gets on track with his fielding, those numbers will go up. 
Related posts