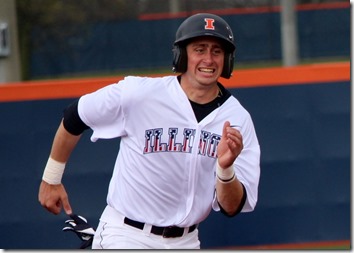 Justin Parr:  still collecting trophies
The 2013 University of Illinois baseball season is over but a few players are still raking in some awards it seems: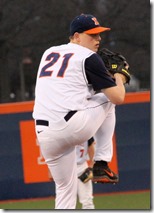 Starter Kevin Duchene earned another Freshman All-American award.  After receiving the Louisville Slugger Freshman All-American honor from Collegiate Baseball Newspaper, Duchene garnered the Freshman All-American award from National Collegiate Baseball Writers Association on June 10. 
Justin Parr collected a host of accolades in the recent past.  He was named a Louisville Slugger first team All-American by the Collegiate Baseball Newspaper.  The NCBWA also named Parr a first team All-American outfielder.  In addition, PING! and Baseball America placed him on their second team. 
On the home front, Parr joins Ashley Spencer winning the 2013 Dike Eddleman Award for the top male and female Illini athletes.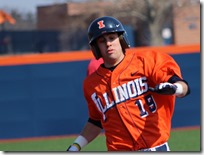 Thomas Lindauer got into action, too.  He joins Duchene and Parr on the All-Mideast Region team sponsored by the American Baseball Coaches Association.  Lindauer and Parr won first team honors while Duchene was placed on the second team. 
Congrats, Illini!!
Related posts