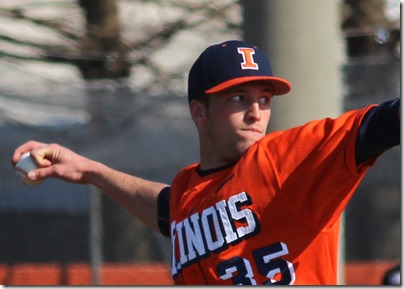 Drasen Johnson gets the 'W' in Illinois' clinching victory
Illinois Baseball dropped their last game of the regular season to Minnesota but they still had plenty to be happy about.  With Friday's 4-3 win over the Golden Gophers, the Orange and Blue will be advancing to the Big Ten Tournament next week. 
After all was said and done, the Illini finished in a fifth-place tie with Michigan with a 14-10 record. 
Here are the final Big Ten Baseball standings
| | | |
| --- | --- | --- |
| Game #48 / May 17, 2013 | | |
| | vs | |
| 4 | | 3 |
The weather played a key part in Saturday's game as the rains came which prompted a two-hour rain delay.  The Minnesota defense was factor as well.  There were four Gopher errors and each played a part in plating Illinois runs. 
Ryan Castellanos pitched solidly as he allowed just two runs in 4 2/3 innings. He even struck out five batters.  I can only assume the rain delay played a part in why he didn't last longer in the game.  The bullpen pitched fantastically.  Drasen Johnson, Ronnie Muck and Bryan Roberts allowed just two hits in 4 1/3 innings.  Johnson (3-1) came away with the win and Roberts got his sixth save of 2013 in the 4-3 win.
Offensively, Thomas Lindauer (2 for 5) and Michael Hurwitz both had key rbi doubles and David Kerian collected two hits and an rbi. 
| | | |
| --- | --- | --- |
| Game #49 / May 18, 2013 | | |
| | vs | |
|       2 | | 0 |
John Kravetz really pitched like a winner in this start and it's a shame he couldn't get the W.  He only gave up four hits and no walks in 7 plus innings.  Not only that, he took a no-no into the sixth inning, giving the Illini plenty of chances to score. 
Indeed it was a pitchers' duel as Illinois even outhit Minnesota 7 to 5 but couldn't plate any runs.  The Gophers put together a mini-rally in the eighth inning and scored two runs for the only offense for either team.  Final score:  Minnesota 2 Illinois 0.
Hard luck Kravetz ends the regular season with a 4-2 record. 
Random Ramblings
Illini fans must see this.  It's a video of Bryan Roberts and Anthony Milazzo announcing Saturday's Illinois lineup for the Big Ten Network broadcast.  Quite humorous.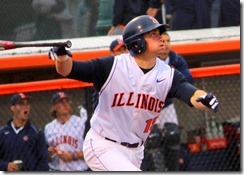 Congrats again to Justin Parr.  He has been named as a semi finalist for the 2013 Dick Howser Trophy.  A quick description of the Howser Trophy:
"The Dick Howser Trophy, given in memory of the former Florida State University All-America shortstop and major league player and manager, who died of brain cancer in 1987, is regarded by many as college baseball's most prestigious award. Criteria for consideration of the trophy include performance on the field, leadership, moral character and courage, qualities that were exemplified by Dick Howser's life."
Parr is among just 40 semi finalists up for the award. 
Next Up
The Illini get just a couple days off but the good news is that they won't have to travel.  The Big Ten Tournament is right there in Minneapolis at Target Field.  Guess who they get to play??
That's right, Minnesota.  Most likely, they will have starter Tom Windle going again but Illinois has already proven that we can beat him. 
Illinois and Minnesota will actually be playing Game One of the Tournament. Game time is Wednesday, May 22 at 12 noon.  Should Illinois win that game, they will play Thursday at 7pm.  If they lose, they will enter the loser's bracket, and will play on Thursday at 3pm. 
Here is the entire Big Ten Baseball Tournament bracket.  There is much more info on the Tournament at the Big Ten website. 
Good luck Illini! 
Related posts