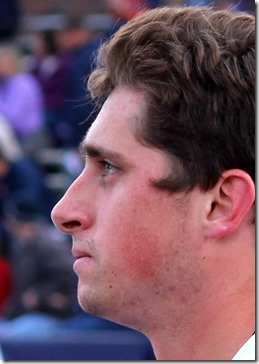 Justin Parr:  Illinois' Hit-man
With last weekend's 1-2 loss against Michigan State, things are getting a little more dire for Illinois Baseball.  There are just two more series left in the regular season.  While they are a respectable 9-9 in conference play, that's still just good enough for 7th place.  They'll need to step it up to get up into the top six so they can to the Big Ten Tournament. 
Looking at the Big Ten standings, it seems that we can break the teams down into three camps.  The top four, Minnesota, Indiana, Ohio State and Nebraska, all seem to have a lock on a tourney berth barring any major breakdown in the next two weekends. The bottom four, Northwestern Iowa, Purdue, and Penn State, are pretty much out of the picture.  Northwestern is the best of that bunch with an 8-13 record. 
That leaves three teams to fight it out for two spots.  Those teams are, in order:
Michigan State  9-6
Michigan  10-8
Illinois  9-9
First the bad news
Michigan State, who already has a slight advantage, gets to play Penn State and Iowa for their last two series.  Those teams have a combined conference record of 8-26. 
The Spartans are on a 7-3 roll against conference teams as well.
Illinois will play first place Minnesota for their last series of the year. 
Now, the good news
Illinois will also play last place Penn State as well this weekend. 
Michigan will play two tough teams.  They play Nebraska (12-6) and Purdue who are probably the best Big Ten with a losing record in my opinion. 
Most importantly, Illinois has the best overall record among the three teams. 
Once again, it will be a close one.  Illinois just needs to concentrate on playing good ball and winning the game at hand and not worry about standings and the tournament.  Let the media do that. 
Before I get off the Big Ten topic, congrats to Penn State on their win on Sunday over Minnesota last weekend.  I'm not a fan of either team but I know it's been a long year for the Nits.  That win against the first place team had to feel good.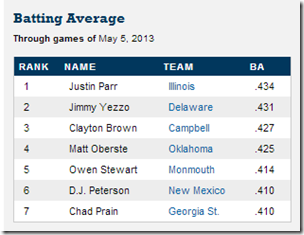 Justin Parr broke the team record for consecutive games with a hit but he certainly didn't stop there.  This past weekend against the Spartans, he kept hitting and brought the streak up to 31 games.  That is now the current highest streak in the NCAA for 2013.  Not only that, Parr has the highest batting average in Division I.  He passed Jimmy Yezzo with his .434 mark. 
For the record, Parr can tie the all-time Big Ten record if he hits in ten more games.  Just one more reason to go to the Big Ten Tournament. 
Finally, if those of you have been waiting to go to an Illinois Baseball game, this weekend is your last chance!  Get on out there and root our guys on! Friday's game time is 6pm.  Saturday's starts at 1pm and Sunday has an early start at 11am. 
Related posts