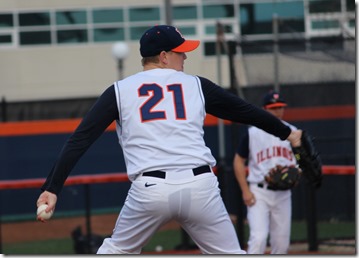 Kevin Duchene gets the start on Saturday against the Spartans
Illinois travels to East Lansing this weekend to take on the Michigan State Spartans.  The series takes on special meaning as the Spartans (24-13, 7-5 Big Ten) reside one spot above Illinois in the conference standings.  A series win would go a long way in moving the team up a spot or two.  Illinois is currently 8-7 in Big Ten play and even two wins would put them above MSU. 
I'm glad to see that Kevin Johnson (6-2) is scheduled to pitch on Friday.  KJ was sidelined last weekend at the last minute due to shoulder tightness.  Kevin Duchene (6-1) who took on the starting role for Johnson last weekend will get a repeat performance on Saturday.  John Kravetz (4-1) has the mound on Sunday and will try for his second win in two weeks.
McLane Baseball Stadium

East Lansing, MI

Fri. May 3

2:05 pm CT


Sat. May 4

12:05 pm CT  

Sun. May 5  
12:05 am CT 

vs

 
24-13, 7-5 Big Ten
Mother Nature unwittingly gave Michigan State a helping hand as all three of their games against now first place Minnesota have were cancelled in mid-April due the massive snowstorm that made games unplayable at the Gophers' Siebert Field.  The Illini who play Minnesota in mid-May won't be able to count on that kind of luck (nor would they want to, knowing our guys).
No matter the year, no matter the circumstances, Illinois and MSU have always played close, tough series. This year, the Spartans have pretty decent pitching including a formidable bullpen.  Starter Andrew Waszak is also 4-2 with a 2.44 ERA in 10 starts. 
The thing about MSU is their inconsistency.  The same team that was beat by Michigan three games is the same one that came back the very next weekend and swept a very excellent Indiana team.  The question is:  Which team will we see this weekend? 
Random Ramblings
Crucial is the word of the day.  I don't think this is planned but both Illinois and Michigan State have used the word 'Crucial' in the headline of their weekend preview press release to describe the upcoming series.  If the shoe fits…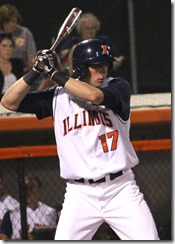 Maybe Jordan Parr thought twin brother Justin was getting too much press lately.  His seven rbis on Tuesday against Southern Illinois was the most by an Illini since former Illinois catcher Chris Robinson accomplished that feat in 2004 against McMurray State. 
Speaking of the Parr twins, I do my best to keep them straight.  In two years, I don't think I've had any mix-ups.  It has been brought to my attention though, that twice in the last two weeks, I've used one's name instead of the other.  Jordan and Justin, don't take it personally. 
At least, I didn't call you Josh.  :)
Go Illini!!
Related posts