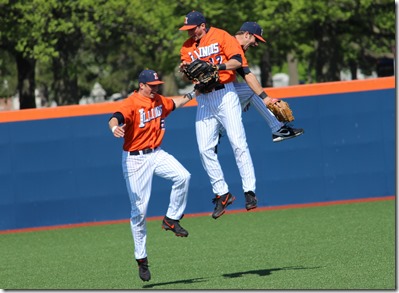 Celebration after Saturday's win!
Illinois got the job done this weekend!  A three-game sweep is what the team needed against the Penn State Nittany Lions and that's what they got.  With an 8-6 win on Saturday and a comeback 5-4 victory on Sunday, the Illini improve their conference record to 12-9 and more importantly, they are now tied for fifth place with Michigan. 
| | | |
| --- | --- | --- |
| Game #45 / May 11, 2013 | | |
| | vs | |
| 8 | | 6 |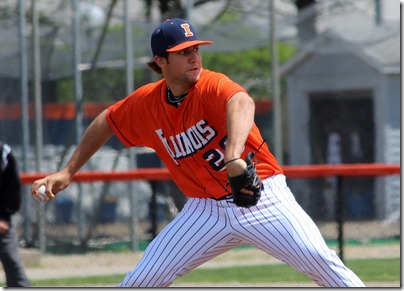 Ryan Castellanos gets win #3
On Saturday, it was business as usual as starter Ryan Castellanos pitched a fine game for his third win of 2013.  Illinois gave Castellanos plenty of support as they scored seven runs in the first three innings.  PSU did threaten late in the game, scoring three in the eighth but Ronnie Muck finished the Lions off for his second save of the year.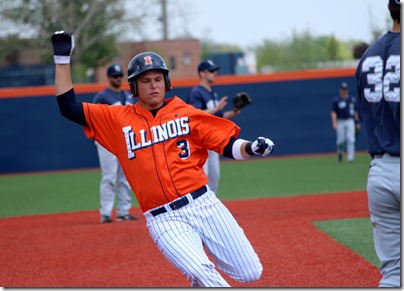 Brandon Hohl slides into third
Illinois put together five hits in the first inning including a Jordan Parr rbi single and rbi double by Brandon Hohl.  In the third, Jason Goldstein followed up Davis Hendrickson's rbi hit with a two-run double.  By then, it was 7-1 and Illinois coasted until the eighth when Penn State mounted a rally. 
Justin Parr didn't waste time getting his hit to extend his hitting streak on Saturday.  He singled in the first inning to make it 33 straight games, a NCAA high for 2013. 
| | | |
| --- | --- | --- |
| Game #46 / May 12, 2013 | | |
| | vs | |
| 5 | | 4 |
Things seemed to be bit amiss on Senior Day.  Justin Parr wasn't getting a hit and the Illini were losing as late as the seventh inning. 
Illinois, however did mount a rally in seventh inning to tie the game 4-4.  It was Thomas Lindauer who drove home two runs with a base hit followed by another run scoring hit by Jordan Parr.  Give Reid Roper credit for the game winning hit.  He drove home David Kerian with a single up the middle in the eighth inning. 
Starter John Kravetz pitched seven innings and allowed four runs, two earned.  Drasen Johnson got the win in relief, his second of the year.  Bryan Roberts pitched the ninth for his fifth save of the year. 
I'd like to write that Justin Parr got his hit in the ninth inning (as he has been prone to do lately).  Unfortunately, Mr. Parr went 0 for 2 with 2 walks on Sunday.  If I know Justin though, he's happy with a win.  Nice streak, Justin!  Congratulations on probably the best offensive season I've ever witnessed. 
More photos from Saturday's game here
Big Ten Watch
With the weekend over, Illinois is in a better place now.  They are 31-15 and 12-9 in conference play.  Take a look at how Michigan and Michigan State stack up against them now:
Michigan (12-9) went 2-1 against Purdue and is tied with Illinois for 5th place. 

Michigan State (10-8)was defeated by Iowa 2 games to 1 and slipped to 7th place. 
If it eventually matters, Michigan has the season advantage in case of a tie with Illinois. 
Random Ramblings
As much as I wanted to, I wasn't able to make it to Sunday's game.  From the reports, it looked like quite a game.  But some things like attention to the people in our lives on their special day, take precedence. 
I do want to personally thank the Senior players and their parents for their hard work and dedication in the past few years.  Thank you! 
Next Up
Now the hard work.  In a couple days, Illinois takes on Minnesota who had been atop the Big Ten standings for a good part of the conference season.  Currently, they are third with a 12-6 record (29-18 overall).  Nebraska just took them down a notch by winning two games at their home field this past weekend. 
The series will start Thursday because of the Big Ten Tournament next week.  Currently, they are scheduled as afternoon games.  Thursday's game is at 1pm, Fridays is at 2pm and Saturday's is at 1pm.
Go Illini! 
Related posts