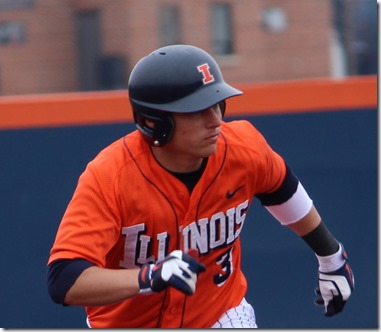 Brandon Hohl:  2 rbis in big win over #16 Indiana
Yes, Illinois Baseball was beat two games to one this weekend by Indiana.  However, when all is said and done, they will record that it was the Illini who stopped the Hoosiers' eighteen-game winning streak.  Coming home off a win against the #16 team in the country, I can't help but think this is a moral victory for the team. 
The 3-2 win today puts Illinois at 19-9 and 2-4 in the Big Ten. 
| | | |
| --- | --- | --- |
| Game #26 / April 5, 2013 | | |
| | vs | |
| 3 | | 2 |
Even following Friday's game over GameTracker while out of town, it was heart breaking.  Kevin Johnson pitched a good game it seemed, keeping the potent Indiana offense at bay and allowing just four Hoosier hits. 
The Illinois bats had their chance too.  They out-hit Indiana eight hits to four.  They brought the score within one run with a Justin Parr rbi double in the eighth.  Illinois couldn't get Justin home though and the score remained 3-2 Indiana.
| | | |
| --- | --- | --- |
| Game #27 / April 6, 2013 | | |
| | vs | |
| 7 | | 3 |
Illinois never got the lead on Saturday while Indiana capitalized on a four run rally in the fifth inning winning 7-3. 
Thomas Lindauer continued his power streak and hit his fifth homer of the season while Brandon Hohl went deep for his second of the year.
| | | |
| --- | --- | --- |
| Game #28 / April 7, 2013 | | |
| | vs | |
| 3 | | 2 |
I caught the tail end of this game on the radio on the way home from Chicago.  Boy, I'm glad I did!  What a game!  A great performance by freshman starter Ryan Castellanos who was making his first start for the Illini and Jordan Parr provided the fireworks with a homerun and scored the winning run. 
Castellanos got the win giving up five hits and no walks.  Bryan Roberts continues to be a valuable asset getting the save in 1 2/3 innings allowing just one hit.
While the pitchers and Parr were getting the accolades in the post game interviews, let's not overlook Brandon Hohl's contributions in the game.  It was Hohl's two rbis (both via sac flies) that ultimately gave Illinois the win.
Random Ramblings
I'm always in a better mood when Illinois win.  If it's against a Big Ten team, all the better. 
Listening to Coach Dan Hartleb in the post game interview today, I couldn't help but think he belied his gruff exterior.  He was practically giddy.  Take note, Illini players. 
Hartleb has remained pretty consistent with his starting pitching assignments over this season.  With Ryan Castellanos' David-like performance against the Goliath of Indiana, I'm wondering if he might get another chance.  It helps that we have a nice one-two punch of Reid Roper and Bryan Roberts out of the pen if we need them. 
Next Up
On Tuesday, Illinois will host  the always tough Eastern Illinois University.  Game time is 6:05pm.  There is a chance for stormy weather on that day so keep an eye on fightingillini.com's baseball page for any schedule changes. 
Go Illini! 
Related posts