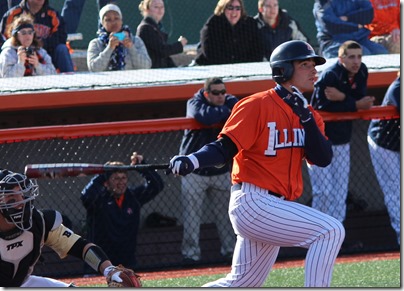 Reid Roper launches one to win it
Last night, we had a slugfest against Purdue.  Today, there weren't as many runs but it certainly wasn't any less exciting. 
Down by a run in the bottom of the eighth inning, David Kerian singled home the tying run and was followed up by a homerun by Reid Roper, his second in as many days.  Illinois won 6-4 with Kevin Duchene getting his fifth win of the year and Bryan Roberts earning his third save.
| | | |
| --- | --- | --- |
| Game #31 / April 13, 2013 | | |
| | vs | |
| 6 | | 4 |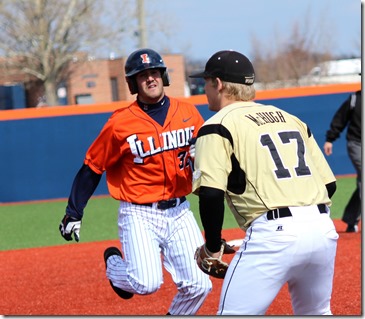 Jason Goldstein motors into third base in the bottom of the second
Purdue got out of the gate again early today scoring single runs in the first and second innings.  The bats came out for the Illini in the bottom of the second inning when Jason Goldstein hit a double scoring two runs.  Goldstein ended up at third on an error and eventually scored on Thomas Lindauer's sac fly.  That gave the Illini a 3-2 lead. 
The lead didn't last too long as Purdue pecked away.  A wild pitch gave away the lead in the fourth inning and in the sixth inning, Purdue's Andrew Talbott doubled in the go-ahead run off starter John Kravetz. 
Kevin Duchene came in relief and I can now see what the fuss is all about with this pitcher.  Duchene shut the Boilermakers down for two plus innings allowing just one hit.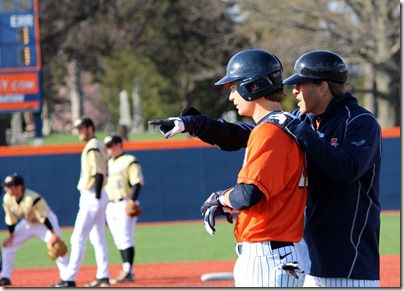 With the game tied, Coach Drew Dickinson tells David Kerian, "See home plate?  That's your destination".
Going into the eighth though, the Illini were still down a run.  Once again, Justin Parr waited until his last at-bat to get a hit, extending his hitting streak to 19 games (don't look now but Jason Goldstein has a nine game hitting streak going now, too).  Brother Jordan Parr got on with a force out and promptly stole second base.  Enter David Kerian who rapped a key game-tying base hit.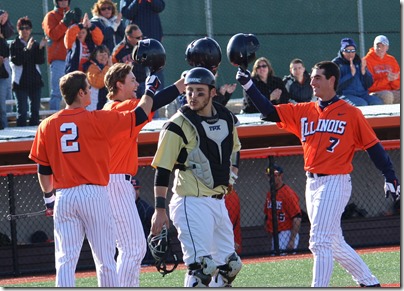 Purdue catcher Jack Picchiotti looks a tad grumpy as Reid Roper is welcomed at home
Now, before this weekend, Reid Roper has been homerless for 2013.  He hit one last night.  He picked a great opportunity to hit his second one, too.  His homerun this afternoon was a blast over the right field wall.  That gave the Illini the final lead and Illinois won 6-4. 
Random Ramblings
With this win, Illinois is now .500 in Big Ten play at 4-4.  This makes tomorrow's game that much more critical.  They will be taking on tough Ohio State next weekend and going in with a winning record would be crucial. 
According to @IllinoisBaseball, this is Illinois baseball's 9th comeback this season. 
In other news, former Illini outfielder Kyle Hudson is making news with the Double-A Baysox. 
"With Avery and Hudson at the top – they are capable of getting on and they hit the ball to all fields," said Manager Gary Kendall. "Having them up there is very exciting and it puts guys in scoring position for Kelly and Ford and Wheeler. It's a pretty good one-two tandem up there with the speed that they have and it's a pretty good lineup throughout."
In the early minor league season, Hudson is hitting .333 with a .429 on base percentage. 
Next Up
The last game of the series against Purdue is tomorrow at 2pm.  Show up early and get fed at the Bleacher Bum Barbeque. 
Ryan Castellanos will be on the mound for the Illini as they attempt the sweep and get into the win column in the Big Ten. 
Go Illini! 
Related posts