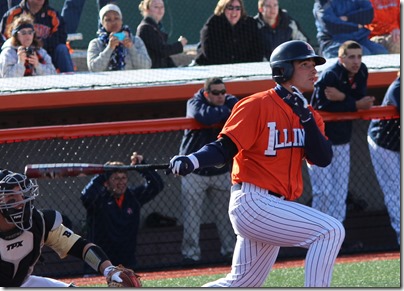 Reid Roper has hit three HR in his last three games
After their three-game sweep of Purdue last weekend, Illinois baseball hopes to continue their conference success this coming weekend against the Ohio State Buckeyes.  Ohio State (23-12, 7-5 Big Ten) is one spot above the Illini in the standings at fifth place so I don't need to remind anyone of the importance of this series. 
in addition to Kevin Johnson and John Kravetz, it looks like Ryan Castellanos (2-0) will get the the third start.  Castellanos will be going for his third straight win. 
Bill Davis Stadium

Columbus, OH

Fri. April 19

5:35 pm CT


Sat. April 20

2:05 pm CT  

Sun. April 21  
11:05 am CT 

vs

 
23-12, 7-5 Big Ten
Traditionally one of the best Big Ten baseball teams, Ohio State still has one of better squads in the conference though they're facing more competition in 2013.  That's probably why we're seeing a less-than-stellar 7-5 record from the Buckeyes.  Nonetheless, they are always a team to be reckoned.
They've had a tough non-conference schedule (a pattern among Big Ten teams this year, it seems).  In conference, they have beaten the teams they were supposed to (a sweep of Purdue) and held their own against the tougher opponents ( 1-2 vs Michigan St and Minnesota).  They're now embarking on a seven game home stand starting with Illinois so a rude awakening in Columbus would be welcome from our perspective. 
The Buckeyes do have tough pitching this year.  Their team ERA is a miniscule 2.68 led by starters Brian King (5-4, 2.34) and Brad Goldberg (2.42, 5-0).  King won't give out any free rides, either.  He's only walked nine batters in 61 2/3 innings. 
Random Ramblings
Thomas Lindauer… I have talked about his upswing in power a lot lately.  He's now leading the Big Ten in homers with eight.  Here's something else I just learned from the Fighting Illini weekend preview;  The 2013 Illinois Baseball team has already surpassed the homerun total from 2012.  They now have 24 dingers compared to last year's 18.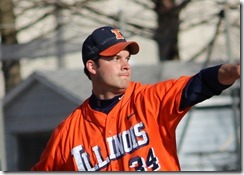 I'm not normally a superstitious guy except when it comes to baseball maybe.  I noticed a week ago that Bryan Roberts (right) hadn't given up a run all year but decided to not say anything.  Players and some fans can be quite funny about making things like that public.  However, I noticed fightingillini.com let the cat out of the bag. 
Yes, Roberts has pitched 12 scoreless innings this year allowing just seven hits and one walk.  Remember, B-Rob, if your give up a run this weekend, it was your SID who brought it up first! 
Speaking of stats and records, there are two impending records that are about to be (hopefully) broken.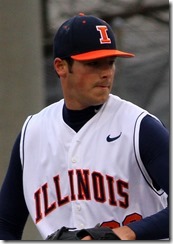 One, Kevin Johnson (left) should more than likely become the all-time Illinois innings leader provided he gets through the first inning on Friday.  He just needs four outs to pass former Illini pitcher Mark Dressen who is now the leader with 328 2/3 innings. 
And two, Justin Parr is four games away from tying Ryan Snowden's Illini record of consecutive games with a hit. 
Top-Three Hitting Streaks in Illinois History
1. Ryan Snowden – 25 games (2/25/07-4/14/07)
2. Tom Sinak – 23 games (4/17/94-3/5/95)
3. Justin Parr – 21 games (3/9/13-present)
Finally, read my latest drivel on the Illinois baseball team on my column at Smile Politely.  Thanks again to SP for their continued interest in getting the news out about Illinois Baseball!
Go Illini!!
Related posts