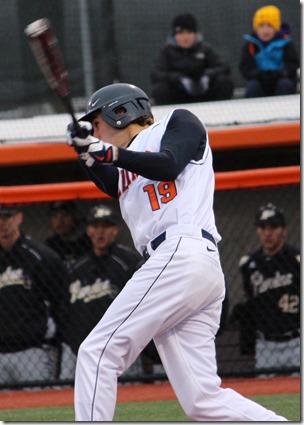 Thomas Lindauer got Illinois off to a good start with his seventh homerun of 2013
Illinois and Purdue got off to a raucous start Friday night when both teams scored 12 runs in the 40-minute first inning alone.  It wasn't over yet either.  Both teams combined for 29 runs and 34 hits in Illinois' 17-12 win over the Boilermakers
| | | |
| --- | --- | --- |
| Game #30 / April 12, 2013 | | |
| | vs | |
| 17 | | 12 |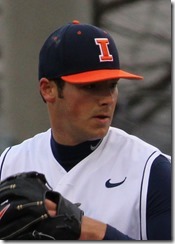 Things looked a little iffy for the Illini and starter Kevin Johnson when he uncharacteristically gave four runs top of the first inning.  So much so they had relievers warming in the bullpen. Fortunately, not only did Johnson get through the inning but Illinois' offense rallied back in the bottom of the first for eight runs.
Thomas Lindauer got the rally started with his seventh homerun of the season start off the first.  In all, thirteen batters came to the plate that inning and Michael Hurwitz has the distinction of hitting two doubles in one inning.  One of these doubles came with the bases loaded, scoring all three. 
After one inning, the score was 8-4 Illinois and it felt like we had watched an entire ballgame.  It reality, it was 40 minutes long.  The game was far from over.  Johnson settled down, giving up just one run in the second and keeping Purdue scoreless for the balance of his five innings. 
But again, there was more scoring to had from both sides.  A Reid Roper homer in the sixth and an inside the park homerun by David Kerian (both their first of the season) increased the Illinois lead to 17-5. 
Purdue who had been hitting the ball hard and placing it well all game, finally got to Illinois again in the 8th inning.  They put together a 7-run rally against Nick Blackburn and Anthony Milazzo.  By then, it was too little too late for the Boilermakers though and Illinois won 17-12 
Every Illinois batter got a hit.  Yes, that includes Justin Parr who went 1 for 5 to extend his hitting streak to 18 games.  He did that in his last at-bat by the way.
Other notable performances:
Michael Hurwitz  4 for 6, 2 2B, 4 rbis
David Kerian 4 for 4, HR, 6 rbis
Reid Roper 2 for 5, HR, 2 rbis
Jason Goldstein 3 for 3, 2 runs
Random Ramblings
Is it me or have we had some pretty exciting plays at the plate in past few weeks?  Right fielder Davis Hendrickson threw out a Purdue runner at home in the second inning.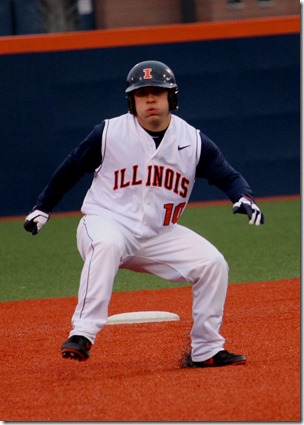 I had to check the Big Ten stats page on this but I knew Michael Hurwitz (above) would be among the leaders in doubles.  Going into this weekend, he was tied for second with 10.  Now he can add two more.  It seems like there is a runner on base when he hits 'em, too. 
I finally got a chance to look at Dewi Krug's photos from the Illinois-Missouri game at Busch.  Please take at them.  They are wonderful! 
Next Up
Saturday's game against Purdue starts at 3pm at Illinois Field.  John Kravetz is on mound for the good guys. 
Don't forget, Sunday is the Illini's big promotion of the season, the Bleacher Bum Barbeque.  The event begins at 1pm and gametime is 2pm.  Bring your appetite for hot dogs and good baseball!
Go Illini! 
Related posts