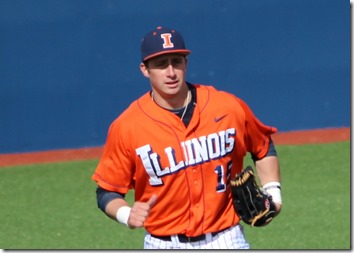 Justin Parr:  24 and counting…
Illinois couldn't pull out a victory against the Buckeyes in their rubber game on Sunday losing 7-3.  The loss gives the Illini a 6-6 conference record and puts them in seventh place in the Big Ten. 
| | | |
| --- | --- | --- |
| Game #36 / April 21, 2013 | | |
| | vs | |
| 7 | | 3 |
Illinois got off to a quick 2-0 start Sunday in the first inning but it all came down to nasty six-run rally by the Buckeyes in the second.  Illinois could never recover and lost 7-3.
Thomas Lindauer went 3 for 4 and scored two runs.  Also, Justin Parr did manage two hits on the day.  That gives him a 24-game hit streak and he's one game behind all-time Illini leader Ryan Snowden. 
1. Ryan Snowden 25 games (2/25/07-4/14/07)
2. Justin Parr 24 games (3/9/13-present)
3. Tom Sinak 23 games (4/17/94-3/5/95)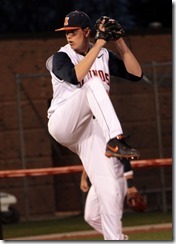 Next Up
The Illini are looking for revenge this Tuesday against Eastern Illinois University.  Illinois lost against the Panthers earlier this season at Illinois Field and hope to return the favor while playing on EIU's home field.  Game time is 6pm at Peterson Park in Mattoon, Illinois.  JD Nielsen (right) gets his first start of the year for Illinois. 
Go Illini! 
Related posts