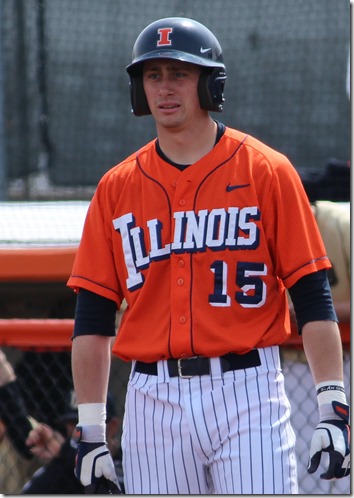 Justin Parr:  On the verge of tying the record
University of Illinois baseball welcomes the Northwestern Wildcats to Illinois Field this weekend.  In seventh place in the Big Ten, the Illini (24-15, 6-6) hope to capitalize big as they enter the second half of the Big Ten season. 
The starting pitchers remain the same for the upcoming series.  Kevin Johnson goes for his 7th win on Friday.  On Saturday, John Kravetz will be on the mound and Sunday, freshman Ryan Castellanos will wrap up the series. 
Illinois Field

Champaign, IL

Fri. April 26

6:05 pm CT


Sat. April 27

3:05 pm CT  

Sun. April 28  
1:05 am CT 

vs

 
17-15, 6-9 Big Ten
In recent history, the Wildcats have been up and down in the Big Ten baseball scene.  This year, they've done well overall but have stumbled against conference opponents, particularly Minnesota who took them for a three-game sweep earlier this month. 
The 'Cats have a decent offense.  Their .283 batting average is fourth in the Big Ten led by Kyle Ruchim who ranks sixth overall in the conference.  Their pitching isn't bad either with a 3.23 ERA, also fourth in the Big Ten.  Ruchim also doubles as a closer and sports a 0.72 ERA in 11 appearances.  Starting pitchers Luke Farrell and Zach Morton both have ERAs under 2.00 but somehow have a combined 5-4 won-loss record between the two of them. 
Random Ramblings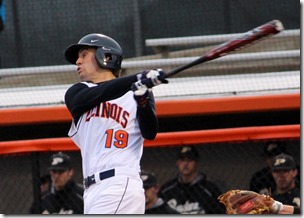 Thomas Lindauer:  On the list
Congrats to Thomas Lindauer… for the second year in a row, he was named to Brooks Wallace Shortstop of the Year watch list.  He joins Indiana's Michael Basil and Ohio State's Kirby Pellant from the Big Ten on the elite list of college baseball shortstops.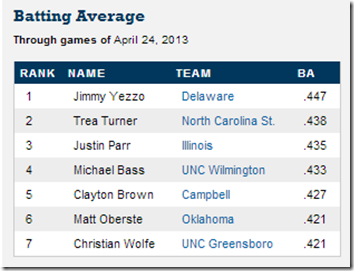 Justin Parr is 3rd in Div I
Justin Parr is on the verge of tying the Illinois record for most consecutive games with a hit.  With a hit on Friday, he will tie former Illinois outfielder Ryan Snowden's record of 25 straight games.  Currently, Parr is hitting .435 which ranks 6th in the nation, third in Division I, and is tops in the Big Ten.
A couple of Fighting Illini promotions this weekend for fans to be aware:    On Saturday and Sunday, Illinois Baseball will be collecting food to be donated to the Eastern Illinois Foodbank.  It's a good cause so bring something good.  There's more info on the FightingIllini.com website.
Sunday has also been designated as "Honor and Serve Day".  Special jerseys will be auctioned off and proceeds will go to locally-operated Roundhouse, a conflict-resolution organization that helps families in the area. 
And as always, I encourage you to read my latest column at Smile Politely that got posted today.
Go Illini!!
Related posts