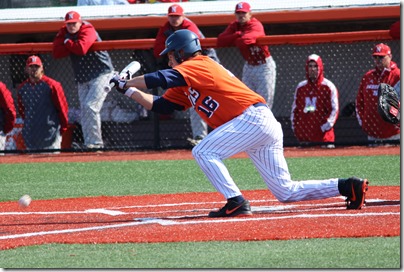 Alex Lincoln lays down a bunt with the bases loaded in the bottom of the 9th
On Saturday, Illinois split a doubleheader with the Nebraska Cornhuskers.  They won the first game 8-7 on a walk-off squeeze play by Alex Lincoln.  In the second game, there were plenty of base runners but Illinois couldn't capitalize.  Nebraska won that one 6-4.
Saturday's spilt gave the Huskers the 2-1 series win for the weekend.  Illinois is now 1-2 in the Big Ten and 14-6 overall.
| | | |
| --- | --- | --- |
| Game #19 / March 23, 2013 | | |
| | vs | |
| 8 | | 7 |
The first game was a roller coaster game where Illinois had the lead four separate times.  Each time they got the lead, the Huskers would battle back.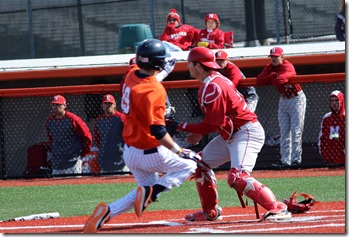 Thomas Lindauer slides safely into home to win the game
The ninth inning was the Huskers' undoing.  With the bases loaded and no out, Coach Hartleb called on Alex Lincoln to pinch hit.  Lincoln laid a beautiful squeeze bunt that drove in Thomas Lindauer to score the winning run.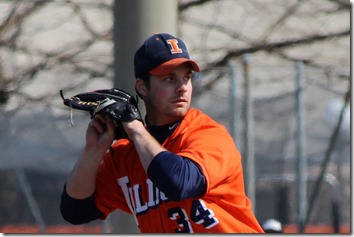 B-Rob: 3 appearances… 3 wins
Bryan Roberts, don't go anywhere.  We're going to need you.  Roberts won Illinois' third straight game in a row after pitching two scoreless innings Saturday.   In just 4 plus innings this year, he's now 3-0.
Big hitters for Illinois:  Will Krug (3 hits), David Kerian (2 hits, 2 runs, 2 rbis), Thomas Lindauer (2 hits, rbi, run), Michael Hurwitz (2 hits, double), Brandon Hohl (2 hits, run, rbi), Jordan Parr (2 runs, rbi)
| | | |
| --- | --- | --- |
| Game #20 / March 23, 2013 | | |
| | vs | |
| 6 | | 4 |
Game two was a bit frustrating for the Illini.  It started out similar to the first game in that the lead changed several times in the first three innings.  After that, it settled down to a 4-4 tie.  Illinois had several wasted opportunities.  Overall, they left 13 men on base for the game.  With the game tied, the Illini loaded the bases in the fifth and seventh innings and got zero runs both times.
A key error led to two Nebraska runs in the top of the eighth.  Tyler Jay (1-3) once again gets the hard luck loss in the 6-4 Husker win.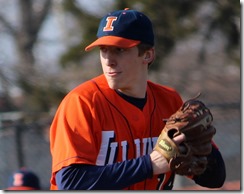 Pitcher Rob McDonnell (right) should get kudos for his performance in the second game.  After coming in for starter Drasen Johnson in the 3rd inning, he got himself into a bit of a jam, giving up a run-scoring hit and a walk.
Kelly Norris-Jones went out to talk to him and not much later, pitching coach Drew Dickinson came out of the dugout for a conference.  I noticed that the bullpen was busy warming someone up.  I honestly thought Rob's day was done.  Well, McDonnell not only got through the inning but pitched four more scoreless innings to keep the Illini in the game.  Well done, Rob!
Big Hitters for the Illini:  Hurwitz (2 hits, double), Justin Parr (2 rbis), Kelly Norris-Jones (2 rbis), Brandon Hohl (2 hits).
Random Ramblings
Here are some photos I took from both games on Saturday.
Smart move by those involved to re-schedule Sunday's game to Saturday.  I don't think we've had such a nicer home opening series as far as weather was concerned.  Friday night's game was just about right with 50 degree temp and practically no wind.  On Saturday, it was bit breezier, making seem a bit cooler.  All in all, I don't think we could have been any luckier.
It was good to chat with former Illini pitcher Lee Zerrusen, one of the nicest guys to put on an Illinois uniform.  He attended Saturday's game.  It's fun to talk to former players and get their take on the current season from a former player's perspective.
In other new, it looks like former Illini OF Willie Argo is getting some playing time in spring training.  As of this writing, he's got one at-bat with the Tampa Bay Rays.
Next Up
Illinois has one midweek home game this week.  They'll play Illinois State at Illinois Field on Tuesday.  Gametime is 4:05pm
Go Illini! 
Related posts