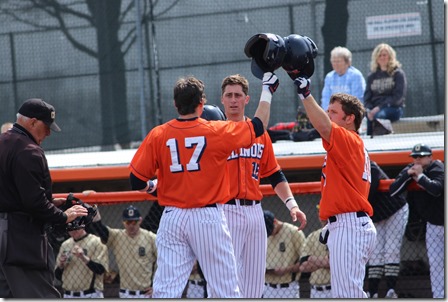 Jordan Parr is welcomed at home by Justin Parr and Michael Hurwitz after hitting his fourth homerun of the year
You could say Illinois Baseball's two games against the Oakland Grizzlies in Saturday's doubleheader were like night and day.  Game 1 was a long drawn affair which it seemed no one seemed could get anybody out.  Illinois won by a football-esque score of 21-8. 
By contrast, Game 2, was a one-run game which saw John Kravetz pitch a no-hitter all the way into the eighth inning.  The game ended with Oakland's potential tying run gunned down at the plate by a throw by leftfielder Will Krug. 
| | | |
| --- | --- | --- |
| Game #22 / March 30, 2013 | | |
| | vs | |
| 21 | | 8 |
Jordan and Justin Parr combined for seven rbis in Game 1.
By the time I got to the park it was the bottom of the first and Oakland already had a 2-0 lead.  In the first inning, they had gotten more hits off Kevin Duchene than they got in nine innings on Friday night.  Duchene settled down though and those two runs were the only ones that Oakland were going score off him in six inning.  That was good for his third win of the year. 
But Illinois… they had lots of scoring in front of them in Game 1.  They scored 21 runs, including fifteen in the first three innings.  Jordan Parr, Thomas Lindauer and Brandon Hohl all went deep for the Illini.  Hohl's homer in the third was his first of the year and was a grand slam special. 
The game will certainly do wonders for Illinois players' stats.  Justin Parr (who went 4 for 6) and Brandon Hohl both drove home four runs.  Jordan Parr and David Kerian had three rbis.  Michael Hurwitz scored four times. 
In contrast to Friday night's game that lasted 1:43, Game 1 today seemed to last an eternity but it was really around 2 hours and 53 minutes.  To Oakland's credit, they battled from a 16-2 and made it semi-interesting by bringing closer to 16-8.  Illinois responded by scoring five more in the eighth.
See the the wild box score at FightingIllini.com. 
| | | |
| --- | --- | --- |
| Game #23 / March 30, 2013 | | |
| | vs | |
| 3 | | 2 |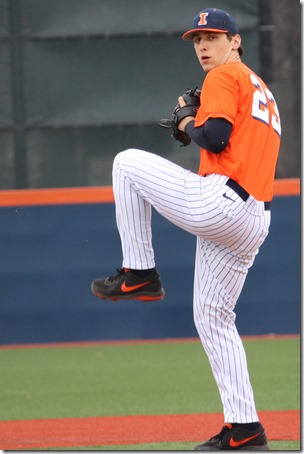 John Kravetz kept Oakland hitless through seven innings in Game 2
By Game 2, the temperature began to cool off a bit and apparently so did the bats.  Illinois did sneak across single runs in the third and fourth innings on a Michael Hurwitz double and a Brandon Hohl single respectively.  Thomas Lindauer came through with his second homerun of the day in the sixth inning, a solo effort. 
No one was really saying anything but John Kravetz was pitching REALLY well.  I started paying attention in the fourth inning when I thought to myself, "Hmm, John hasn't given up any hits, yet".  And he kept cruising through every inning. 
The eighth inning was his undoing though.  He gave up a hit to the first Grizzly batter (and got a well-deserved hand from the crowd).  When he gave up two more hits, Coach Hartleb decided to let Bryan Roberts come in.  In total, Kravetz, pitched 7 1/3 innings, gave up 2 runs, one earned and walked one and struck out one.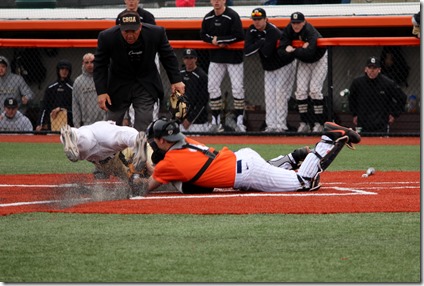 Kelly Norris-Jones takes the throw from LF Will Krug and makes the tag
B-Rob got through the eighth with no trouble striking out two Grizzlies.  Fast forward to the top of the ninth the score is now 3-2.  With one out, Roberts gave up a double to an Oakland batter.  A fly out later, Oakland batter Robby Enslen rapped a base hit to left but a sharp throw by Will Krug to Kelly Norris-Jones nailed the potential tying run out at the plate.  Nice play, guys!! 
Kravetz gets his third win of the year and for once Bryan Roberts gets a save instead of a win.  It's his first one of the year. 
Lots of photos here at the Illinois Baseball Report photo gallery including an acrobatic move by Adam Walton vaulting over a runner at second base as well as one of the Oakland coach losing his cool. 
Next Up
Tomorrow, Illinois will finish up their four-game series against Oakland.  Nick Blackburn will be the starter and game time is noon.  Weather looks rainy tonight but it should clear up by tomorrow afternoon…  I hope.
Go Illini! 
Related posts