The Fighting Illini never looked back from yesterday's win as they never trailed either of their two opponents today at the UTA/Hilton Invitational in Arlington, Texas.  They got solid performances from both freshman Nick Blackburn and Kevin Johnson as they defeated the Houston Baptist Huskies and the Texas-Arlington Mavericks.  Thomas Lindauer hit his first career homer and the Parr brothers continue their hot hitting.
The Illini are now 7-3 and carry a six game winning streak into Sunday's game against Texas-Arlington.
In the first game, it wasn't until the seventh inning when the Houston Baptist Huskies scored their first run.  By that time, it was already 12-0 and the Illini had done their damage.  In addition to Lindauer's homer, Jordan Parr was 2 for 3 with three rbis.  Brother Justin Parr contributed two hits including a triple.  David Kerian is showing more signs of a good stick.  He hit two doubles with two rbis.
Starter Nick Blackburn kept the Huskies scoreless for six innings before getting lifted in the seventh.  All told, he had two runs charged in 6 2/3 innings spreading out 9 hits and one walk.  Final score Illinois 12 HBU 3.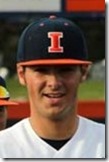 Illinois didn't stop there.  Against the UTA Mavericks, Kevin Johnson (right) mastered the opposing batters, keeping them scoreless for five innings and allowing no earned runs for 6 2/3 innings.  By that time, it was 5-2 Illinois thanks in part to the Parr brothers. Jordan Parr (2 for 4) drove home Will Krug with a triple in the first.  An inning later, Justin Parr (4 for 4) doubled home two.
And just for good measure, Jordan Parr hit a homerun in ninth also driving home, you guessed it, Justin Parr.
Final score:  Illinois 7  UTA 3
FightingIllini.com posted a summary of today's action here.
Random Ramblings
Lots of good stories for today:
Illinois' complete control of series (so far) never trailing in the tournament
Thomas Lindauer's first career homerun
Jordan and Justin Parr went a combined 10 for 18.  Both have a 10 game hit streak starting at the beginning of the season
On the downside, depending on how you look at it of course, Ronnie Muck gave up his first run of the season.
Great performances all around!!
Next up:  The last game of the UTA/Hilton Invitational is tomorrow at 11am CT when the Illini take on Texas-Arlington once more.  John Kravetz is slated to be on the mound.
Go Illini!
Related posts