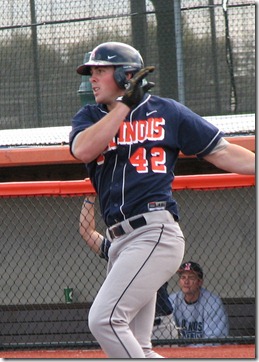 Former Illini outfielder draftee Willie Argo was touted in a Tampa Bay Rays prospect wrap-up on milb.com:
Willie Argo, Princeton (64 games), Bowling Green (five games): A largely unheralded 22nd-round pick out of Illinois in June, Argo debuted at Rookie-level Princeton and became a star in the middle of the Rays order. The 23-year-old — who spent most of his games in the cleanup spot — led his team in average (.301), on-base percentage (.404) and OPS (.815), earning him a late-season promotion to the Midwest League. Argo's overall .289 average ranked him fifth among Rays Minor Leaguers, while his eight outfield assists led all short-season affiliates.
From the beginning, there was no doubt in my mind that Willie Argo was destined for great things.
Nice going, Willie.  Do us proud in '13!!
Related posts