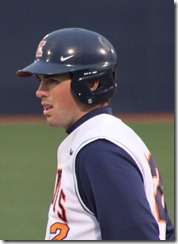 Former Illini Willie Argo is doing his best to keep his Princeton Rays in the race.  They're chasing after a wild card spot in the Appalachian League.  Willie (left in his Orange and Blue days) is doing his part, hitting .400 in his last 10 games including a 9 for 17 stint in four straight games.
For the year, he's gotten his batting average up to .284 with a nifty .391 OBP.
Meanwhile, former teammate Josh Parr is doing fine with the Yakima Bears in the Class A Northwest Short Season League.  He's hitting .247 but is fourth in the league with 13 steals and has clubbed six homers with 34 runs scored.  Parr went 2 for 2 and scored twice on Monday to help Yakima defeat Boise.
Good luck to both as the season comes to an end!
Related posts