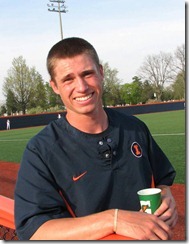 Former Illini shortstop Josh Parr had a fantastic game last night in Class A ball.  Parr (left) showed his little brothers, Justin and Jordan how it's done in the minors when he rapped out four hits for the South Bend Silver Hawks in their 11-6 victory over the Drayton Dragons.
Parr's hitting just below the Mendoza Line at .195 for the year.  In his last ten games though, Josh his hitting .351.
In summer league action, a few current Illini are making some waves.  Brandon Hohl also had four hits for the Wisconsin Rapids Rafters on Thursday.  Hohl went 4 for 5 with 2 rbis with 2 runs scored.
The day before, also for the Rafters, Illini Ronnie Muck continued doing what he does best.  He pitched three perfect innings with four strikeouts against LaCrosse.
Keep an eye on Fightingillini.com's Summer League Central.  It lists all of our Illini baseball players who are playing in summer leagues this off-season with handy links to the team's and league's web pages.
Related posts