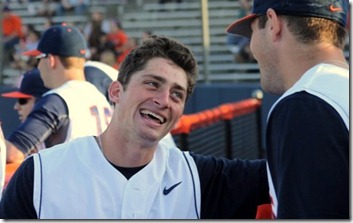 Jordan Parr paces the Illini in batting average (.360) and rbis (35)
After winning five of their last six Big Ten games, the Illini are ready to take on Michigan State here at Illinois Field. It's a crucial series for both teams as both are tied for fourth place in the standings and the Big Ten season is rapidly coming to a close.
Don't forget, there are two big promotions at Illinois Field this weekend. Friday is the 4th annual Bleacher Bum BBQ. There will be free food for the first 2000 fans, prizes and lots of other fun. Game time is 6pm but the gates will open at 4:30 so get there early.
On Sunday, Illinois will be honoring student veterans and all others in the military by wearing camo jerseys. The jerseys will be auctioned off and the proceeds will be given to the local Don Moyer Boys and Girls Club.
A big weekend indeed!
A quick rundown on the Michigan State series:
Michigan State Spartans

May 4, 2012
6 pm CT (gates open at 4:30!)
May 5, 2012
3 pm CT
May 6, 2012
1 pm CT
Illinois Field
Champaign, IL
Program website link
2012 Record  27-15 (8-7 Big Ten)
 
Head Coach:  Jake Boss Jr
 
Key player: Torsten Boss (.373, 35 rbis)
 
MSU and Illinois have similar records, both are 8-7 in conference play and the Spartan have a slightly better 27-15 overall mark to Illinois' 25-19. The difference is momentum.  Illinois seems to be on the upturn with two winning weekends in a row. 
Through the 00s, MSU has been pretty compatible with the Illini team.  That said, they've emerged as a powerhouse in the past couple years (don't forget, they tied with us for first place in the Big Ten in 2011).  I expect a hard fought series. 
Keep an eye out for Torsten Boss, son of the "Boss" himself, head coach Jake Boss. Torsten leads the team with 35 ribbies. 
Random Ramblings
My latest column was posted this morning on Smile Politely. I'm enjoying my gig there. It gives me a different outlet and a slightly different audience to reach.
My inside source tipped me off that former Illini Kyle Hudson had a good night this week for the minor league Durham Bulls. He drove in a key run Tuesday night.
Finally, for those interested, Big Ten Tournament tickets are on sale.  There's more information at the 2012 Big Ten Tournament site. 
Good luck this weekend, Illini!!
Related posts