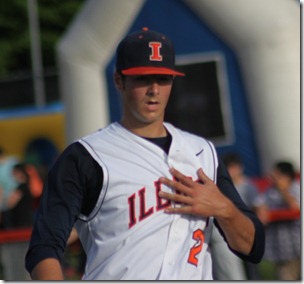 A rare loss for Kevin Johnson
It was a case of not enough pitching, not enough hitting and poor fielding as the Illini lost to the Michigan State Spartans 15-8 in the first game of this weekend's series. 
Atypical for him, starter Kevin Johnson had an off game.  He gave up eight runs in 4 2/3 innings.  He wasn't helped by Illinois fielders, though.  Four errors were made in the field during the game. The majority of the MSU offense came in the fourth, fifth and sixth innings when they scored 13 runs.  By then, the writing was on the wall for Illinois.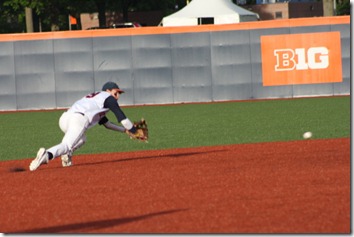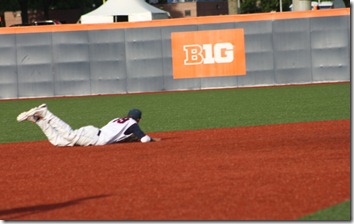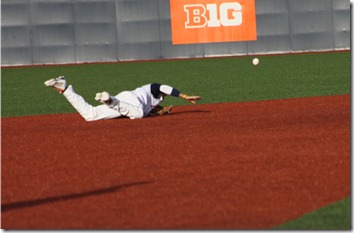 Shortstop Thomas Lindauer makes the force at second in a pretty incredible play
The Orange and Blue did attempt a rally in the bottom of the ninth giving the fans something to cheer about.  Down 15-4, they scored four runs on a walk and singles by Bill Charvat, Chase Hainline, Jordan Parr and Davis Hendrickson.  By then, it was 15-8 and the bases were loaded and I'm sure I wasn't the only long time Illini baseball fan thinking back to the MSU-Illinois game in 2007 when we came back from seven runs down to win it. 
But alas, a double play put an end to that pipe dream. 
I should mention that Willie Argo and Thomas Shelton both had great games at the plate.  Both hit a double and a homerun each and Argo collected three rbis.  As for Shelton, he's on a tear.  He only just had a seven game hitting streak stopped last weekend against Northwestern.  Glad to see he picking it back up again. 
It seems the Bleacher Bum BBQ was a success all things considered.  The total attendance was 2,499.  The weather was doubtful this morning but it turned out to be a very nice night for baseball.  When I arrived at 5pm, the crowd was a bit light but fans kept trickling in.  Maybe they really do come for the baseball. 
More photos from today here.  Like today's game, my photos from tonight's game are admittedly a little uninspiring. 
One last thing.  Congrats to former Illini pitcher Lee Zerrusen who is getting married here in town tomorrow.  I ran into several former players who were in town for the wedding.  Lee, I sure hope you scheduled the wedding around the baseball game. :)
Tomorrow is another day and I'm looking for a win!
Related posts
Filed under: Game Recaps on May 4th, 2012 by: Thomas Nelshoppen