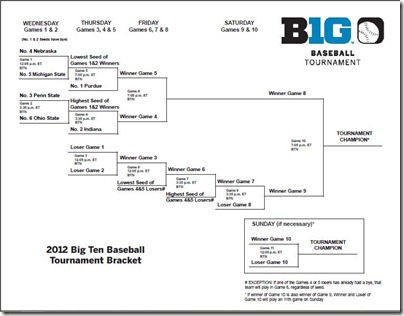 The Big Ten has come out with the bracket for this week's baseball tournament in Columbus.  Don't bother looking for Illinois.  They haven't changed their mind.
"Ohio State earned the No. 6 seed, finishing 11-13 in Big Ten play. The Buckeyes finished tied in the standings with Illinois and Minnesota, but claimed the tiebreaker by virtue of their record against the three teams' common opponents. Ohio State will make its 25th tournament appearance, which is second among all Big Ten teams, and its second in a row. The Buckeyes have won eight conference tournaments, which is tied for second among all Big Ten teams."
Tournament Central is the place to go to get any information the regarding Big Ten Baseball Tournament.
Related posts
Filed under: 2012 Big Ten Tournament on May 20th, 2012 by: Thomas Nelshoppen