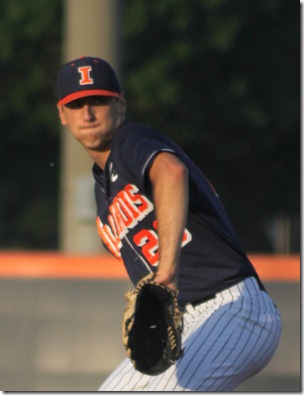 John Kravetz:  team leading 8 wins
Illinois won their second crucial game in a row against the Minnesota Golden Gophers 3-2 on Friday night behind the formidable pitching of starter John Kravetz.  With the win, the Illini (11-12) jumped over Minnesota (10-13) in the standings.  With some help from the Indiana Hoosiers who defeated Ohio State today, the Illini are now in a tie for sixth place, the last tournament berth.
A storybook ending?  Time will tell. A season ending tie would go to the Illini because they have the head-to-head record edge this year.  An Illini win OR an Ohio State loss on Saturday would send our boys to Columbus and the Big Ten Tournament. (it's not that simple, I guess.  An Illini win would be necessary).
Tonight, John Kravetz was all business as he pitched the Illini to victory and earned his team leading eighth win.  He started the game by pitching six scoreless innings.  His only run came on a first pitch Bobby Juan homerun in the seventh inning.  In all, he only allowed six hits and walked no one.  Reid Roper pitched the ninth for his 3rd save of the year and second in as many nights.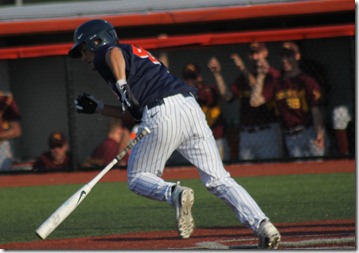 Will Krug:  2 for 3 and scored the winning run
Kravetz didn't need much support from his hitters tonight but he got what he needed.  Jordan Parr drove home Willie Argo who doubled in the first.  It stayed 1-0 until the bottom of the sixth inning when once again, Argo got on base, this time on a walk. After an Argo/Justin Parr double steal, Thomas Shelton drove Argo home on a single to right.
Will Krug who started  in right field in place of Davis Hendrickson, played an integral part in tonight's game.  He was 2 for 3 and scored the deciding run in the seventh inning when he doubled and eventually scored on a groundout by Thomas Lindauer.
Next Up
One last home game.  Illinois takes on Minnesota at 12:05 pm Saturday.  Drasen Johnson who had an excellent outing last weekend against Penn State (albeit in a losing cause), will be on the mound.
Tomorrow is Senior Day.  If you're interested, come by 15 minutes early and you can watch the team honor their outgoing graduates.
Go Illini!
Related posts
Filed under: Game Recaps on May 18th, 2012 by: Thomas Nelshoppen