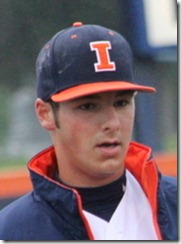 The baseball fans at Rocky Miller Park were treated to a pitchers' duel extraordinaire today.  Both Illinois starter Kevin Johnson and Northwestern pitcher Francis Brooke pitched complete games and between the two of them, only one earned run was allowed.  Fortunately for Johnson, he had just enough offense behind him and Illinois won 2-0.
Indeed, Kevin Johnson (right) pitched what was probably his best game so far this year. Not only was it a complete game shutout but he struck out a season high nine batters.  It was Johnson's third complete game of the year and he's now 7-3 for 2012.  
Coach Hartleb concurs.  He said this in the post game interview:
"That was as well-pitched of a college game as you'll ever see.  We just came up with a couple hits with runners in scoring position and that was the difference.  Kevin Johnson was exceptional all day."
Northwestern starter Brooke was a hard luck pitcher today.  I'm sure Wildcat fans hated to see him lose that one.  He only gave up five hits in his complete game and issued no walks.  He wasn't helped by Northwestern fielding which contributed to both runs. 
Thomas Shelton singled in the third (yes, that's six games in a row) and eventually scored on a fielding error by the Wildcat right fielder.  Later in the fifth, Jordan Parr and Kelly Norris-Jones both singled.  An error by the same RF brought Jordan Parr home. 
Next Up
John Kravetz will try to match Kevin Johnson's seven wins tomorrow against the Wildcats. Game is at 1pm.
Go get 'em, Illini!
Related posts
Filed under: Game Recaps on April 27th, 2012 by: Thomas Nelshoppen