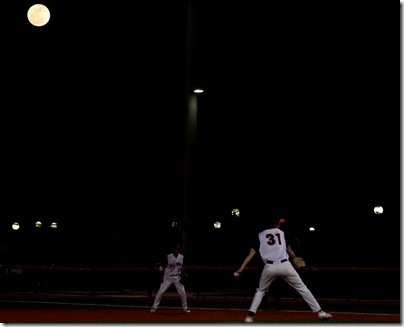 Reliever Anthony Milazzo pitches under a full moon
Friday's game against Indiana was just not meant to be.  Before Illinois even had a hit, Indiana racked up seven runs off starter Kevin Johnson (5-2), who had won his previous five starts.  From then on it just one missed opportunity after another and the Illini eventually succumbed to the Hoosiers 12-3. 
Johnson left in the third and Brian de la Torriente managed to get out of the jam.  He even pitched a scoreless fourth inning.  But the Hoosier offense caught up to him in the subsequent innings when they scored three runs off of him.  Drasen Johnson didn't have much better luck.  Indiana scored two runs off of him in the eighth. 
Thomas Lindauer played some good D tonight
Offensively, the Illini did manage to get runners on base but just couldn't always get them home. Their first run scored in the sixth on a Justin Parr double but two runners were left on base. The same situation happened the next inning when Davis Hendrickson scored on a wild pitch but again, two runners were stranded.
The opportunities were there but just not taken advantage of.
Justin Parr, to his credit, got three hits on the day.
 Old friends come to visit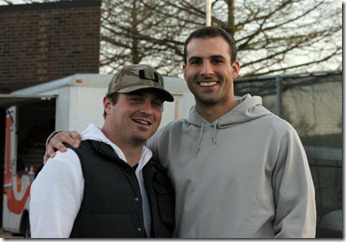 Casey McMurray and Dom Altobelli
It was nice to see two former Illini players come see the game.  Casey McMurray and Dom Altobelli were in the stands tonight.  I haven't seen Dom since he graduated from the U of I.  He and I caught up a bit and talked about what was going on in our lives.  After being in the minors for a couple years, Dom says he is now getting used to "real life" in the finance world.  Good luck, Dom!
More photos here.
Next Up
The Illini take on Indiana again Saturday at 3:05pm and Sunday at 1:05pm at Illinois Field.  I'm sorry I won't be there.  They say non-conference season is one thing and conference season is a totally different thing.  That can't be over-emphasized.  The home crowds are bigger.  The visiting crowds are bigger.  The players from both sides are so much more into the game (both dugouts tonight were chattering like crazy).  There is so much more on the line. 
So even if I can't be there, you should be there and root on extra hard. 
Related posts