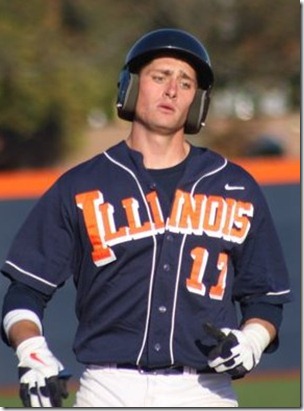 Jordan Parr paces the Illini with 11 rbis
Now for a switch… Illinois won't be going to Florida this weekend.  They won't be going to Texas or South Carolina either. 
Try Eugene, Oregon. 
This weekend, Oregon University and Oregon State University are collaborating to put on the Nike College Showcase which will host six teams and twelve games.  And in case you're wondering, the weather forecast for this weekend looks good.  The high on Saturday will be a balmy 52 degrees and the low will be a bearable 41.
It will be a switch in gears for a couple different reasons.  This will also be the first time the Illini (4-5) will face a top ten team.  Friday night, their opponent will be #9 Oregon who are 10-1 going into this weekend.  The challenges continue later in the weekend when Illinois faces #28 Oregon State now 8-4. 
By now, the boys are already on the way out west. 
Breaking down the opponents:
#9 Oregon Ducks

March 9, 2012
8:00 pm CT
PK Park
Eugene, OR
Program website link
2012 Record  10-1
Head Coach:  George Horton
Key player: Ryon Healy (.333, 12 rbis)
Yes, they're named the Ducks but they're also the toughest team the Illini will face this weekend.  Ranked #9 in the nation, Oregon is out to a 10-1 start.  As a matter of fact, they haven't lost since opening day at Hawai'i. 
That said, they swept Long Beach State who are 4-8 but look at the scores.  Each of the three games were one-run games (5-4, 3-2, and 8-7).  That probably says something about their late inning bullpen but it also indicates a late game rally could upend them. 
Connecticut Huskies

March 10, 2012
1:00 pm CT
Goss Stadium
Corvallis, OR
Program website link
2012 Record
4-6
Head Coach:
Jim Penders
Key player:
Tom Verdi (.375, 14 rbis)
Connecticut is coming in to the Nike Showcase at 4-6.  By virtue of being a BIG EAST team, a few of their opponents so far have been Big Ten teams. Indiana was routed 8-0 by the Huskies on opening day but Purdue and Ohio State both did fine against them winning 9-4 and 9-5 respectively. 
Overall, UConn seems to be a pitching squad, holding their opponents to a .225 batting average.  Maybe we'll be lucky and won't see starter Brian Ward who has only allowed three earned runs in three starts. 
#28 Oregon State Beavers

March 10, 2012
5:00 pm CT
Goss Stadium
Corvallis, OR
Program website link
2012 Record
8-4
Head Coach:
Pat Casey
Key player:
Michael Conforto (.438, 10 rbis)
The Beavers of OSU aren't as formidable as their cross-state university in Eugene but they've done fine in 2012.  Right now, they are 8-4 and ranked #28 in the nation.  They also have some momentum behind them as they swept all three games in the Coca-Cola Classic. 
Expect some fireworks with the Beavers.  They rely on their offense to win.  Of course, you can take that two ways.  In other words, their pitching relies on the offense to win.  Only one starter has an ERA under 6.00. 
West Virginia Mountaineers

March 11, 2012
1:00 pm CT
PK Park
Eugene, OR
Program website link
2012 Record
6-6
Head Coach:
Greg Van Zant
Key player:
Ryan McBroom (.348, 7 rbis)
The Mountaineers have been a bit streaky in 2012.  They won their first three games of the year (also at the Big Ten/BIG EAST Challenge) then proceeded to lose their next four.  For the year, they've managed a .500 record at 6-6. 
The biggest disparity I see with WVU is with pitching.  Their hurlers have a pretty high ERA at 5.68 compared to their opponents' 3.68. 
How to follow the games at the Nike College Showcase
We'll be getting a treat with the Nike College Showcase.  We'll be able stream both audio and video for the Illinois games.  FYI: There will be a cost!
Here is the link for audio and video stream.
As usual, there will be a Live Blog and GameTracker will be up and running for those who want to follow the games in that fashion.   Those links will be available near game time on the fightingillini.com website. 
Good luck this weekend, Illini!!
Related posts