I guess, it's the nature of college baseball.  Saturday, I was listening to the Illinois-Nebraska game on the way home from grocery shopping when Illinois had a 2-0 lead.  I thought to myself, "Good.  They'll need more.  But that's a nice start.".  But by the time we brought the groceries in and put them away, my mind immediately wandered back to the game.  I flipped the radio back on and Nebraska now lead 8-3.  I swear I was only gone 10-15 minutes tops!  By the time the game was over, Nebraska had won by a football-esque score of 18-5.
Indeed, the Illinois and Nebraska game on Saturday would have been close if we could just magically take away the Huskers 11-run second inning.  There's no pretty way to say it, two-time Freshman of the Week John Kravetz got rocked.  He allowed more earned runs in the second inning than he did for the rest of the 2012.  As a result, his ERA will more than double.  Even the Illini bullpen which has been solid recently, gave up nine more runs.  It didn't help by giving up eight walks to the Cornhuskers.
Some Silver Linings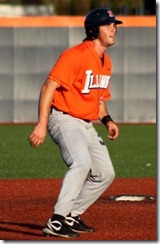 The Nebraska blowout overshadowed a positive Illini event.  With his sixth steal of 2012, Willie Argo (right)tied the career steal record for Illinois players.  He now has 83 swipes and is hitting .358.  Congrats, Willie! 
One more thing worth mentioning… Bill Charvat who was DHing Saturday (though Bill can fill in at multiple positions if need be, he's that kind of guy) hit his first homerun of his college career.  Way to go, Bill. 
Next Up
Time to forget Saturday and move on. There's one more game left in this series and Illinois can come out of this a winner.  Sunday's game is at 1pm and freshman Josh Ferry is the scheduled starter. 
Related posts