On Sunday, the Illini didn't waste time against the West Virginia Mountaineers.  In their last game at the Nike College Showcase in Eugene, Oregon, the bats were swinging and the runs were scoring.  The game almost seemed in the bag by the bottom of the first when Illinois scored seven runs.  If case there was any doubt, they scored seven more in the next two innings.  Those 14 runs would certainly be enough and Illinois defeated WVU 14-3 on a six inning mercy rule win.
It was a long two innings for Mountaineer starter Eric Hinkle who suffered all 14 runs.  In the first, ten batters came to the plate.  Things didn't seem to improve for him in the second or third as Illinois kept plating runs.  Interestingly, in those first three innings, Illinois "only" had six hits to go with their 14 runs.  Hinkle's lack of control (6 walks and four wild pitches) certainly helped the cause.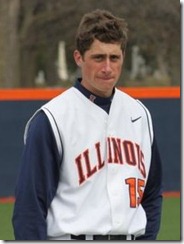 Brandon Hohl, Thomas Lindhauer and Justin Parr (right) all had multi-hit games but that doesn't tell the whole story.  Willie Argo went hitless Sunday but ended up scoring three times due to being walked four times.  Also, Davis Hendrickson had one hit but managed to drive in four runs. 
In all the hoopla of Sunday's offense, let's not forget about the pitching.  Nick Chmielewski allowed just one earned run in 3 1/3 innings.  Luke Joyce, who got the win, and Ronnie Muck were practically perfect.  Joyce just allowed one hit and struck out three batters and Muck pitched a spotless sixth. 
So with the weekend tournament over, the country sees a more formidable Illinois team.  The team was 3-1 for the Nike College Showcase defeating a nationally ranked team on Friday.  More importantly, they come out of it with a winning record with a 7-6 mark.  To add to that, the Big Ten has recognized both Kevin Johnson and John Kravetz this week.  Johnson was named Big Ten Pitcher of the Week and Kravetz was dubbed Big Ten Freshman of the Week.  This was Kravetz' second time he was named with the award this season. 
Next Up
The next time the Illini play baseball, it will be in the state of Illinois.  It won't be at Illinois Field, sad to say but they're getting closer.  Illinois will be playing in the Carbondale/Marion area for their Spring Trip.  Coach Hartleb's alum Southern Illinois University will be Illinois' first victim. 
Related posts