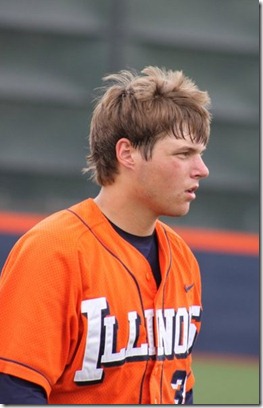 Three rbis today for Brandon Hohl
"Days like this when Illinois wins, I'm that much happier", I just told Jay, the guy behind the counter at the coffee shop who's also a baseball fan.  And it's true. 
Indeed, Illinois did win against the Southern Illinois Salukis.  Thanks to another stellar pitching performance by starter Kevin Johnson and the offensive effort of several, the Illini won 8-2 in a comeback effort down in Carbondale.  Illinois has won four of their last five games and boosts their record to 8-6. 
Johnson gave up a quick two runs to the Salukis in the first inning.  Fortunately, that would be all the scoring SIU would see for the game.  In seven innings, Johnson held them to six hits and one walk.  KJ also struck out eight SIU batters.  His record now stands at 3-1. 
The Illini bullpen continues to dazzle.  Bryan Roberts (left) and Anthony Milazzo came in for a scoreless inning each. 
Offensively, we have plenty of hitters to thank for their support of Johnson and Co.  Davis Hendrickson began the third inning with double followed by a Will Krug single.  Two errors later and the good guys had scored four runs.  A two-out fourth inning rally began with another Hendrickson double.  That was followed by a walk and singles by Alex Lincoln and Thomas Lindauer.  Score two more for Illinois. 
Illinois plated two more runs in the seventh inning when Brandon Hohl drove home Willie Argo.  One at-bat later, Reid Roper scored Justin Parr on a sac fly. 
In all, Argo, Hohl, Roper, Hendrickson, and Krug each had two hits.  Hohl drove home three runs on the day (and even stole a base).
Random Ramblings
I didn't have a lot of good things to say about the NIU Huskies in my preview post yesterday.  I did caution that every game is to be taken seriously.  Here is one reason why:  I just noticed that Illinois has lost their last two games against them.  Don't worry, I'm sure we're going to reverse that tomorrow.
Heads up!  I'll be doing an Q&A interview of first year pitching coach Drew Dickinson in the near future.  If anyone has any good questions they like to ask, leave them in the comments section or you can email them to me. 
Next Up
One game tomorrow.   At 11am, they take on the 2-14 Northern Illinois Huskies in Carbondale.  Two time Big Ten Freshman of the Week John Kravetz (2-0, 1.90) is on the mound. 
Go Illini!
Related posts