Fightingillini.com is now just beginning to coming out with their annual previews of the baseball program.  Part 1 was just posted today on pitching.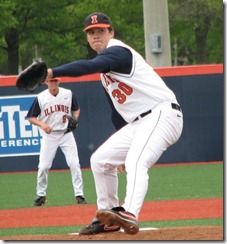 It will be a very different pitching staff than what we saw go to Regionals in 2011.  Overall, the team lost nine seniors plus three more to the draft and a good part of them were pitchers.  But that's not to say the Illini are not deep.  We've gotten a few arms back that were sidelined with injuries (Bryan Roberts, left, and Nick Chmielewski).  In addition, there are a few more that seem ready to take on a leadership role in the organization.
Between Chmielewski, Kevin Johnson, Rob McDonnell, Matt Milroy, Drasen Johnson, John Kravetz, and Josh Ferry, it appears we have plenty of arms to keep the rotation going. 
I'm glad to see the bullpen will be in good shape (knock on wood).  I'm assuming Bryan Roberts, who went 9 for 9 in save opportunities in 2010, is healthy and ready to go.  Bolstering him will be Luke Joyce who had a fine freshman year in 2011 (3.05 ERA).  Also in the pen will be Will Strack, Brian de la Torriente, and Reid Roper (yes, 2011 infielder Reid Roper will actually be contending for the closer role in 2012).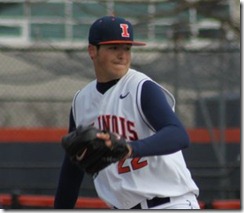 Speaking of Kevin Johnson (right), it bears emphasizing his hard luck year in 2011.  He went 2-7 for the season despite being our Friday starter.  A little trivia:  his 103 innings pitched and 68 strikeouts were the most by an Illini starter since a pitcher by the name of Drew Dickinson.  Of course, Dickinson is now the pitching coach for the Illini and from the looks of things, doing a fine job.  You can actually see an interview with him in the Pitchers Review
Nine days and counting… 
Related posts